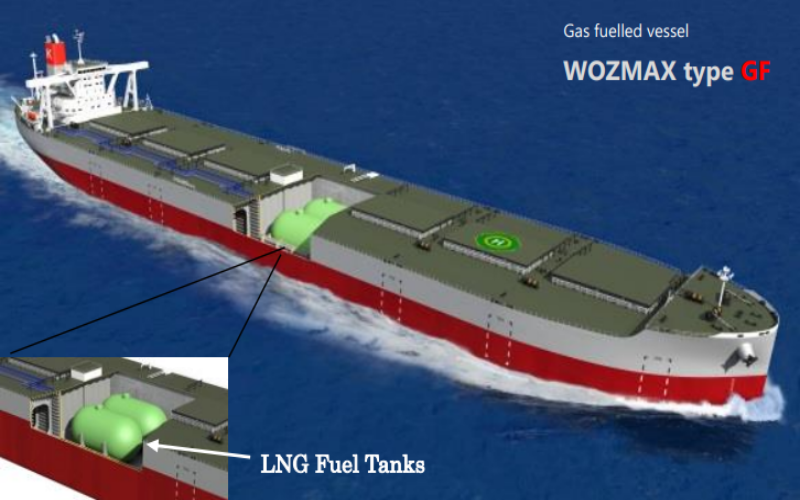 Japanese ship maker K Line, along with Namura Shipbuilding, has secured approval from DNV GL for the concept design of an LNG-fuelled vessel.
The Norwegian classification society granted the approval in principle (AIP) for the concept design of the ore carrier. The partners said that work on this joint project was complied with both environmental and actual operation requirements, based on the second generation WOZMAX of Namura Shipyard.
WOZMAX, the registered brand of Namura Shipyard, is an optimum size of vessel. The new design will keep almost the same dead-weight and normal service speed as WOZMAX, the partners added.
Additionally, the ship will retain enough endurance for round-trip between Singapore and Brazil in gas fuel mode, arranging the LNG tanks in center section of hull.
It will be able to obtain Energy Efficiency Design Index (EEDI) phase 3 by means of primary fuel changes to LNG.
Furthermore, the partners are exploring the options to leverage the combined power of shaft generator, binary cycle power generation system and lithium battery to cut carbon emissions and achieve additional 4% reduction in fuel oil consumption.
In accordance with K Line Environmental Vision 2050, the Japanese shipbuilder is working to obtain greater efficiency in its operations as well as further reduce CO2 emissions.
In June, K Line along with Kawasaki Heavy Industries agreed to develop an integrated vessel operation and performance management system called Kawasaki – Integrated Maritime Solutions (K-IMS).