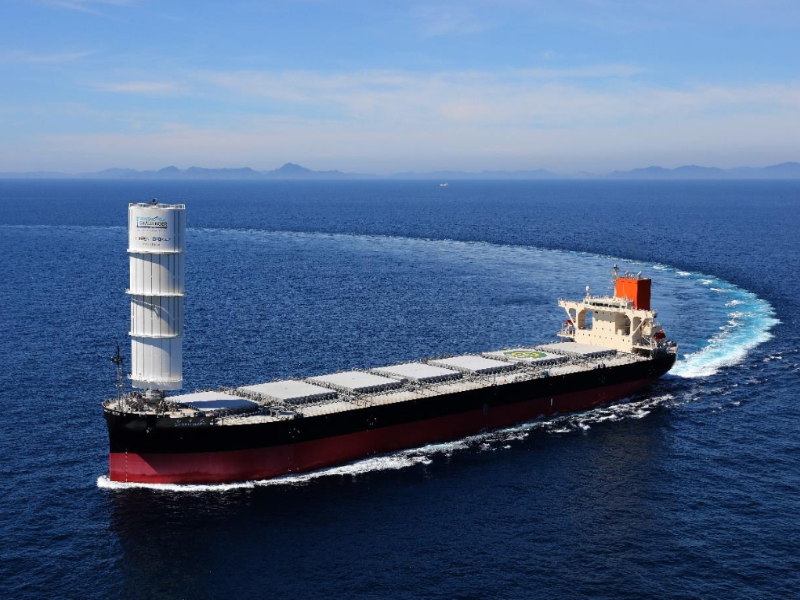 Mitsui OSK Lines (MOL) has taken delivery of Shofu Maru, a coal carrier fitted with wind challenger, from Oshima Shipbuilding.
Claimed to be the world's first coal carrier to be installed with wind challenger, Shofu Maru will be deployed for Tohoku Electric Power to transport coal, mainly from Australia, Indonesia and North America, according to a contract signed in December 2020.
Compared to a conventional vessel of the same type, the installation of wind challenger is anticipated to lower greenhouse gas (GHG) emissions by around 5% on a Japan-Australia voyage and 8% on a Japan-North America West Coast voyage.
Developed by MOL and Oshima Shipbuilding, the wind challenger uses a telescoping hard sail to harness wind power and drive the vessel.
With a deadweight tonnage (DWT) of around 100,422t, the ship has a height of around 53m and width of roughly 15m.
The Japan-flagged vessel has an overall length and breadth of around 235m and 43m, respectively.
MOL also unveiled plans for the construction of a second bulk carrier installed with wind challenger.
Furthermore, MOL has agreed to a transition-linked loan from Sumitomo Mitsui Banking for financing the Shofu Maru's construction.
Earlier this month, Singapore-based Pavilion Energy and MOL announced plans to launch a new liquefied natural gas (LNG) bunker vessel in Q1 2023.