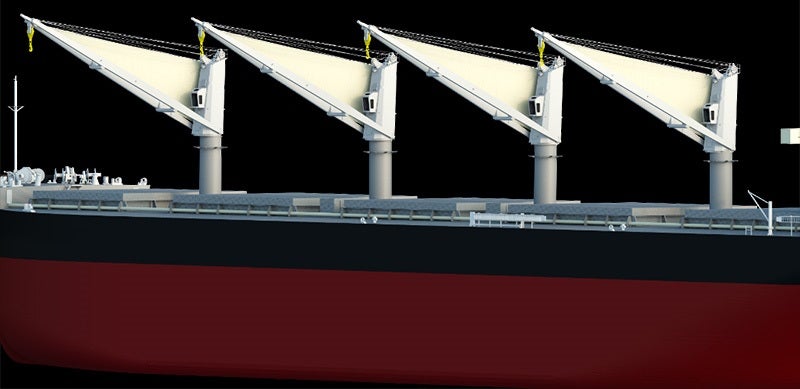 Mitsui OSK Lines (MOL), MOL Drybulk, Oshima Shipbuilding and Iknow Machinery have signed an agreement to mutually conduct research and development (R&D) for a new energy-efficient sail.
Named the Iknow Delta Sail Crane (Delta Sail), the new sail can be fixed on vessels' cargo handling cranes and similar equipment to enhance propulsion force.
As part of the project, the partners will work together to minimise greenhouse gas (GHG) emissions from ships.
This will be achieved by placing the sail on the vessel, for example on triangular parts of current cargo handling cranes, and opening it up to provide extra propulsion force by using offshore winds.
The company stated that several MOL Drybulk-operated vessels feature cargo handling cranes.
MOL will assess the Delta Sail's deployment on a variety of vessels, including bulkers, wood chip carriers and multi-purpose vessels.
The group aims to attain the medium- to long-term targets mentioned in the 'MOL Group Environmental Vision 2.1', through five initiatives. This includes the target of net-zero GHG emissions by 2050.
In a statement, the company said: "Through this joint R&D project, MOL group strives to reduce GHGs in clean energy supply chains with industrial leaders by one of the initiatives 'Enhancement of Energy-Saving Technologies' in addition to our existing environment-friendly technologies using offshore winds such as Wind Challenger/Wind Hunter Project."
The Wind Challenger Project has the ability to reduce GHG emissions by between 5% and 8% by minimising the consumption of bunker oil.
This is attained through the deployment of a telescoping hard sail that converts wind energy to propulsive force.
The company has already placed an order with Oshima Shipbuilding for the construction of the first ship to be loaded with the Wind Challenger.
A coal carrier vessel, this first ship is expected to commence operations next year.
Meanwhile, the Wind Hunter Project entails a zero-emission driving initiative, integrating wind propulsion sailing technology and wind energy for the production of a stable hydrogen supply.
Earlier this month, Methanex Corporation and MOL agreed on key commercial terms for the purchase and sale of an equity position in Waterfront Shipping, a subsidiary of Methanex, as well as the creation of a partnership involving the subsidiary.