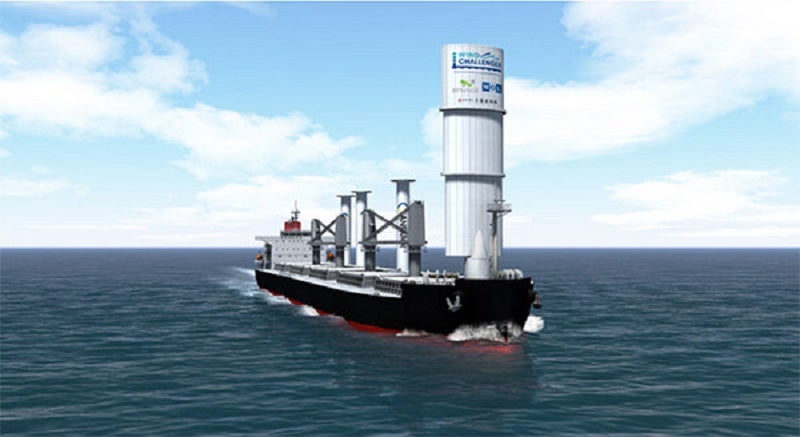 Japanese shipping firm Mitsui OSK Lines (MOL) has announced plans to equip a second bulk vessel in the group's fleet with the 'Wind Challenger' hard sail system.
A MOL Group company, MOL Drybulk, will operate the vessel, which will ship wood pellets for global energy company Enviva.
MOL has signed a construction contract with Oshima Shipbuilding for the new ship, which is expected to be delivered in 2024.
It will be the second vessel equipped with the Wind Challenger hard sail system, which harnesses wind power to propel carriers.
The first vessel equipped with the system is a bulk carrier for Tohoku Electric Power, which is set to enter services in October.
A fundamental technology of the MOL and Oshima Shipbuilding-led project, Wind Challenger uses a telescopic hard sail to convert wind energy into propulsive force.
It aims to reduce greenhouse gas (GHG) emissions by using wind energy to propel vessels.
Meanwhile, MOL is also studying the feasibility of using UK-based Anemoi Marine Technologies' Rotor Sails auxiliary wind propulsion system.
Together, the Wind Challenger system and Rotor Sails are expected to decrease GHG emissions by at least 20%.
In a statement, MOL said that the group will focus on achieving net zero GHG emissions by 2050 as part of the MOL Group Environmental Vision 2.1.
In March 2021, MOL and Enviva partnered to develop and deploy an environmentally friendly bulk carrier.
In October 2019, MOL and Oshima Shipbuilding received approval in principle (AIP) from ship classification society ClassNK for the hard sail system designed under the Wind Challenger Project.