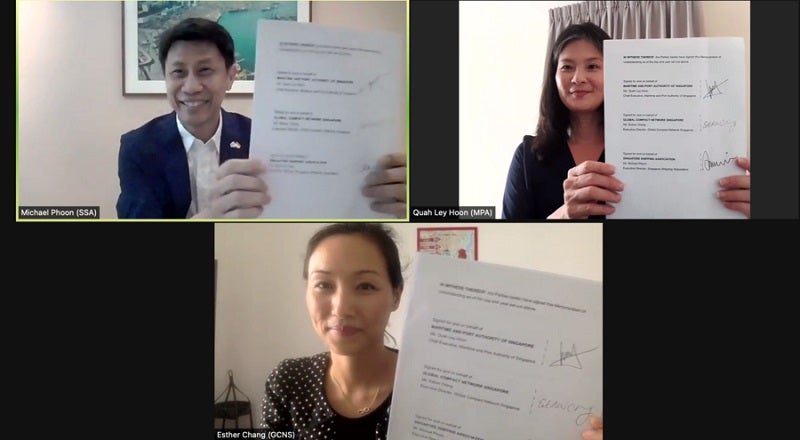 The Maritime and Port Authority of Singapore (MPA) has signed a memorandum of understanding (MoU) to facilitate the development of carbon accounting capabilities amongst maritime firms in Singapore.
The MoU was signed with the Singapore Shipping Association (SSA) and Global Compact Network Singapore (GCNS).
According to the agreement, the partners will jointly organise training courses on carbon reporting, monitoring and management for local maritime firms affiliated with SSA.
They will help local maritime firms track and monitor their CO₂ emissions as well as recognise companies achieving emission drops.
Additionally, the partners will come up with a guide on maritime industry carbon reporting.
According to MPA, the first training courses will begin in the first week of October.
While completing the courses, individuals from participating firms will use the Carbon and Emissions Reporting Tool (CERT) as an initial method of measuring and tracking emissions.
CERT has been created by GCNS in collaboration with the National Environment Agency.
It has been developed to 'simplify' the procedure of recording emissions data.
SSA executive director Michael Phoon said: "As a key maritime stakeholder, SSA can contribute to the International Maritime Organization (IMO) 2050 decarbonisation goals by steering our members and the shipping community to undertake carbon accounting and embrace efforts towards reducing carbon footprint.
"We hope this collaboration with MPA and GCNS will enable the shipping industry to do our part towards decarbonisation."
In 2017, MPA signed an MoU with GCNS to offer training to maritime companies on sustainability reporting.
Last year, the MoU was extended until 2023 to promote carbon management and awareness amongst maritime firms.
In July, Singapore's DBS and partners concluded the city-state's first live bunker delivery financing pilot transaction.
The pilot transaction was completed in collaboration with TFG Marine, Ocean Network Express and Ascenz, with support from MPA.