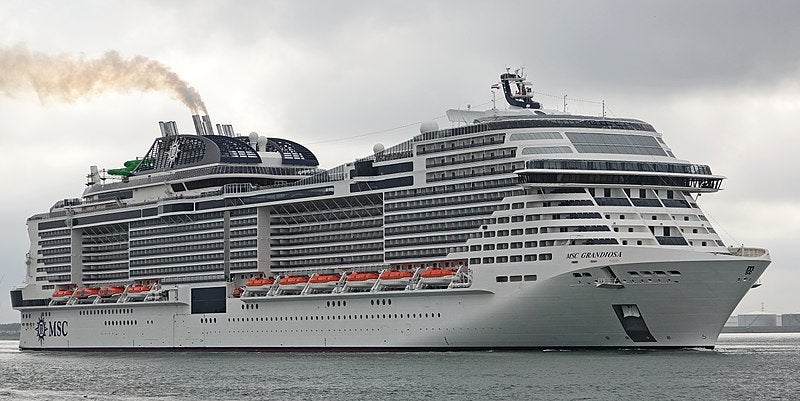 MSC Cruises' ship MSC Grandiosa has set sail from Genoa, Italy, for the first cruise in the Mediterranean after an almost five-month suspension period.
Previously, MSC Cruises extended the suspension of all global operations amid the Covid-19 pandemic.
The cruise ship left for a seven-day voyage where it will stop at three ports in Italy and Valletta, Malta.
BBC reported that all the passengers and the crew onboard were tested for Covid-19 before they embarked on the cruise.
The MSC Grandiosa will operate at 70% of normal operations with approximately 2,500 passengers on board to ensure safety protocols.
Last week, the Italian Government permitted the cruise lines to resume operations in the country from 15 August.
MSC Cruises plans to introduce another cruise from Bari, Italy, on 29 August. However, other Mediterranean cruises are suspended until mid-October.
Cruise ships have been the most affected since the start of the Covid-19 pandemic and there have been many reported cases of the infection onboard.
Several Princess Cruises ships, namely Diamond Princess, Grand Princess, Ruby Princess and Coral Princess, reported confirmed cases onboard and after disembarkation.
Earlier this month, 41 people who were on the MS Roald Amundsen cruise ship operated by Norwegian expedition cruise line Hurtigruten tested positive for Covid-19.
Cruise Lines International Association (CLIA) announced that the cruise line members have extended the suspension of US cruise operations until 31 October.
In a separate development, Australia's New South Wales (NSW) Government has issued an apology regarding the poor handling of the Ruby Princess cruise ship Covid-19 outbreak, which infected 900 people and killed 28.
In a statement, the government said: "The NSW government would like to thank Commissioner Bret Walker SC and his team for their work on the Special Commission of Inquiry into the Ruby Princess.
"The NSW government extends its heartfelt apology to anyone who experienced any additional hurt, stress and trauma due to the mistakes made by NSW Health."