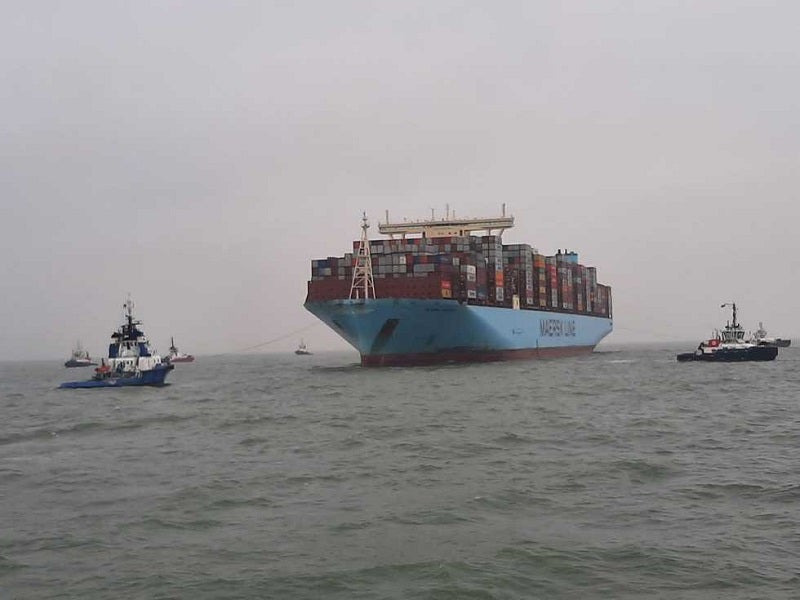 An AP Moller-Maersk-owned container vessel that ran aground off the German island of Wangerooge in the North Sea has been freed.
The 400m-long Mumbai Maersk, which is said to be one of the world's largest container vessels, was refloated after it became stranded in a shallow area near Bremerhaven on 2 February.
According to Bloomberg shipping data, the ship can now sail with restricted manoeuvrability from the site.
Maersk stated that the vessel was heading towards Germany from Asia, with a cargo bound for the Scandinavian nations, when it became stuck in the North Sea.
Following the failure of an earlier attempt to move the vessel into deeper water, more tug boats were involved and a fresh attempt was made to free the ship.
In a statement on its website, Germany's Central Command for Maritime Emergencies said: "The Mumbai Maersk was towed free during a second attempt. The large container ship is to be brought to the port of destination, Bremerhaven, at the earliest possible time."
An offshore tug boat, a multi-purpose ship and six assistance tugs were deployed for this operation.
The ship did not block the German port of Bremerhaven's entrance and caused no damage to the hull, crew injuries or pollution.
An investigation has been initiated to discover how the vessel got stuck.
The Danish-flagged Mumbai Maersk has the capacity to carry more than 18,000 containers.
It is almost equivalent in length to the Ever Given, which blocked the Suez Canal in Egypt in March last year.