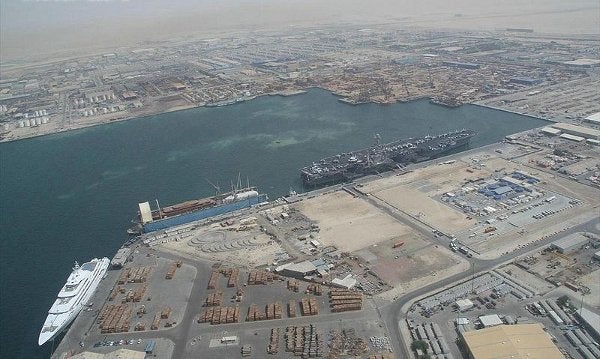 Port operator DP World is planning to invest $850m in the expansion of port Jebel Ali in the UAE over the next three years.
The expansion, which includes an additional 4Mteu, will increase total teu capacity at the port to 19Mteu by 2014.
The operator will adapt 1,860m of quayside and 70ha of yard from an existing cargo berth into a new container terminal.
The port operator said the investment, which will be financed from existing cash resources and cashflow, will support the continued growth of Dubai and the UAE, and enhance the country's status as the trade centre of the Middle East.
According to the company, the new terminal, which will be operated with the largest quay cranes and have a draft of 17m, will be able to handle the world's largest container vessels in the future.
The move will also help DP World to handle the future demand of commodities trade, especially with the new airport in Jebel Ali picking up cargo throughput that will create the region's biggest sea-to-air cargo facility in Jebel Ali.
DP World chairman Sultan Ahmed Bin Sulayem said that over the past 40 years the company's facilities have contributed significantly to the development of Dubai, the UAE and the wider region through the provision of efficient supply chain services.
DP World CEO Mohammed Sharaf said the UAE has seen remarkable growth this year and the terminal is currently operating at very high levels of utilisation, reflecting its strong position as a hub for the fast-growing regions of the Middle East, Indian subcontinent and Africa.
"With GDP forecasts reflecting a continuation of growth across the region and container shipping lines ordering larger vessels, this expansion will ensure our customers will have the additional capacity required and a continuation of the high levels of efficiency they have come to expect from DP World," Sharaf said.
Earlier this October, the port operator announced plans to invest another $1bn in its London Gateway development and a 9,000,000ft2logistics park, which is expected to be operational by the fourth quarter of 2013.
The deepwater shipping port, located about 25 miles from central London, will have an initial capacity of 1.6Mteu.
The port operator also awarded four port equipment contracts, including a partnership with Cargotec, for port automation.
ZPMC has been contracted to provide eight quay cranes – which DP World claims will be the largest in the world – to handle the next-generation container vessels of 18,000teu capacity.
DP World said the port project is expected to bring £3.2bn to the UK economy each year.
Caption: An addition of 4Mteu will increase total teu capacity at the port to 19Mteu by 2014. (Image courtesy of Imre Solt.)