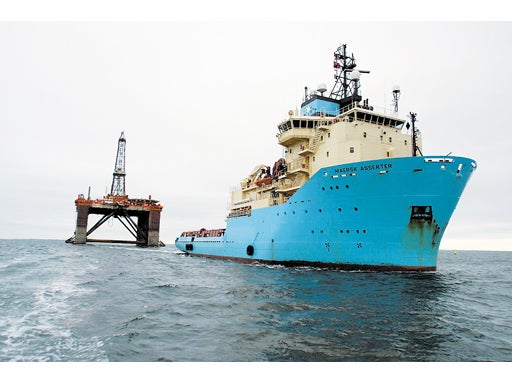 Maersk Supply Service, a unit of Danish shipping major AP Moller-Maersk, has ordered two offshore supply vessels for about $200m from Chilean shipbuilder Astilleros v Servicios Navales (Asenav), including an option for four additional vessels..
The vessels, which are are expected to be delivered in February 2014 and January 2015, will replace existing vessels operating in the Canadian offshore market, the company said.
Maersk Supply Service CEO Carsten Plougmann Andersen said, "We are very pleased with this order for new vessels which, as far as working environment for the crew onboard and a green operational profile goes, will be a substantial improvement from today's standards."
The vessels will be designed to perform a range of services to the offshore industry including iceberg management, anchor handling, standby, general support of drilling rigs and other essential offshore installation supplies such as fuel, water, equipment, drilling mud and other materials required for drilling operations.
"These vessels will set a new standard for emission levels, operational efficiency and uptime in the offshore industry thanks to their many new design features," Andersen said.
Maersk Supply Service has ordered the vessels as part of the company's investment programme, which focuses on deepwater and harsh environment areas.
The vessel pair will be designed with a hull to meet the speed and work patterns in the ultra-harsh environment in East Canada's offshore industry.
All the machinery in the vessels will be optimised to offer a 25% reduction in energy consumption, including main and side propellers, which only rotate when required.
In addition, ventilation of the engine room, cooling water to the engine and other systems will be designed to match with the needs of the crew and the engines.
The vessels have been designed in collaboration with Maersk Maritime Technology and Wartsila ship design, and will have a bollard pull of 150t.
Maersk Supply Service operates 67 vessels including craned offshore support vessels, anchor handling tug supply vessels, platform supply vessels and sub sea support vessels.
Caption: Maersk Supply Service has ordered two offshore supply vessels, which will offer a 25% reduction in energy consumption