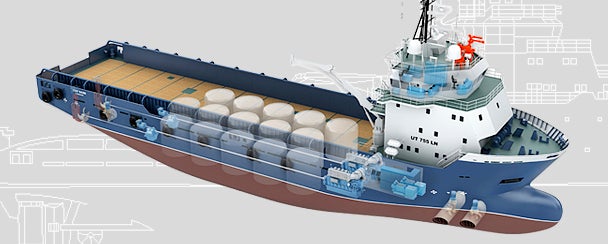 Rolls-Royce has received a £10m order from shipowner Gulf Offshore North Sea to design and equip two offshore supply vessels (OSVs).
For each vessel the company will provide a propulsion system including propellers and thrusters, along with deck machinery, bulk handling equipment and a ship automation package.
The two UT755 XL design vessels will be built at the Rosetti Marino shipyard in Ravenna, Italy, and are scheduled to be delivered in 2013 and 2014, respectively.
The order also includes an option to build an additional vessel of the same design.
The company claims that the UT 755 series, which delivers low fuel consumption, low noise and vibration, excellent load capacity and versatility, is the world's most popular platform supply vessel (PSV), with more than 170 on order or in service.
Last month, the company won a £10m order from Singapore-based offshore company PaxOcean to design and equip two oil platform supply vessels (PSVs).
The two PSVs will be built at PaxOcean Engineering's ship yard in Zhuhai, China, in accordance with clean design regulations and will be equipped for fire-fighting and oil recovery.
The vessels are expected to be delivered in the first half of 2013.
Earlier this month Rolls-Royce and China's Bestway Marine Engineering Design introduced a new range of energy-efficient vessel designs, which they say will meet the future requirements of the global merchant shipping industry.
The new vessel designs, which will feature advanced Rolls-Royce propulsion systems, have been produced using the combined expertise of the two companies.
The company said that the designs featuring its gas engines already meet International Maritime Organisation (IMO) Tier III requirements on NOx, SOx and CO2 emissions, which will come into force in 2016.
Both companies planned to develop new designs to address the growing demand for environment-friendly, energy-efficient ships, including the application of LNG power.
Caption: The two vessels to be built at Italy's Rosetti Marino shipyard are expected to be delivered in 2013 and 2014, respectively.