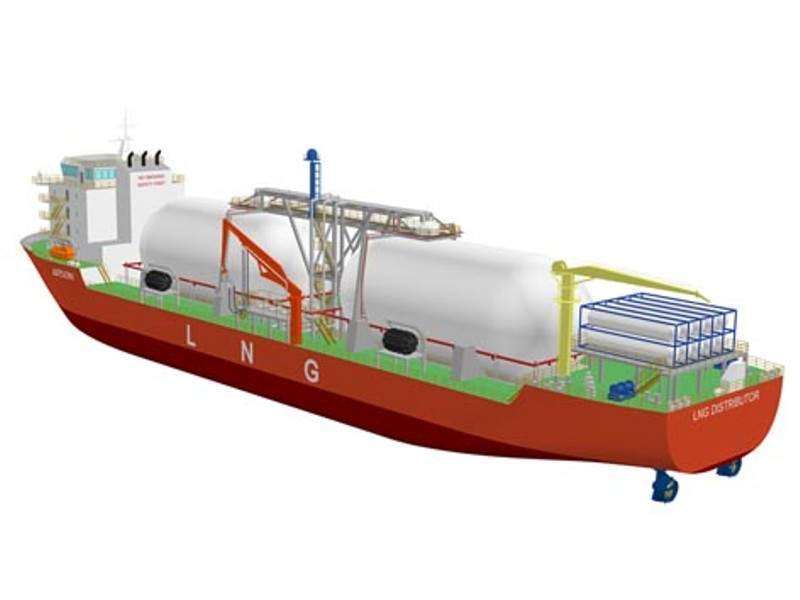 China-based Wison Offshore and Marine (Wison) has developed a new multi-functional LNG distributor (LNGD) carrier design, which could make regional LNG redistribution cheaper and more efficient.
The new Wison-LNGD concept is designed to carry out LNG loading, bunkering and container delivery services, and features a scalable capacity between 5,000m³ to 20,000m³.
Traditional LNG carriers can load, transfer and unload full cargoes between two terminal points, however the new LNGD will able distribute partial loads to coastal areas in various regions, including the Indian subcontinent, Southeast Asia, Caribbean, and Northern Europe.
The new carrier can also deliver cargoes in areas where LNG carriers with similar capacity cannot enter, as it is capable of operating in drafts as shallow as 4.5m.
Additionally, LNGD's azimuth thruster propulsion system offers improved manoeuvrability and eliminates the need for tug assistance. It also includes a bunkering arm that allows the vessel to gain quick access with the receiving facility, while offering a short turn-around time.
Wison's LNGD can be equipped with a large open deck, which can be used to deliver general supplies and parts.
"Our LNGD solution will become a key enabler for small-scale FSRU developments in areas that are too small to be feasibly served by a large-scale floating unit."
The vessel is also designed to deliver full International Organisation for Standardisation (ISO) certified containers for inland trucking, as well as retrieve empty containers, which can then be refilled using an onboard refill station.
Wison Offshore and Marine CEO CUI Ying said: "Our LNGD solution will become a key enabler for small-scale FSRU and FSRP developments in the areas that are either inaccessible or too small to be commercially, feasibly served by a large-scale floating unit or land facility.
"By dedicating to the development of cost-effective and innovative products across the LNG value chain, we're tailoring solutions to various demand scenarios and clearing roadblocks for LNG distribution to end markets that remain untapped."
Wison's LNGD can also be used as an LNG distribution solution for near-shore LNG milk-run deliveries in certain locations that have restricted access.
---
Image: Wison LNG distributor carrier concept. Photo: courtesy of Wison Group.