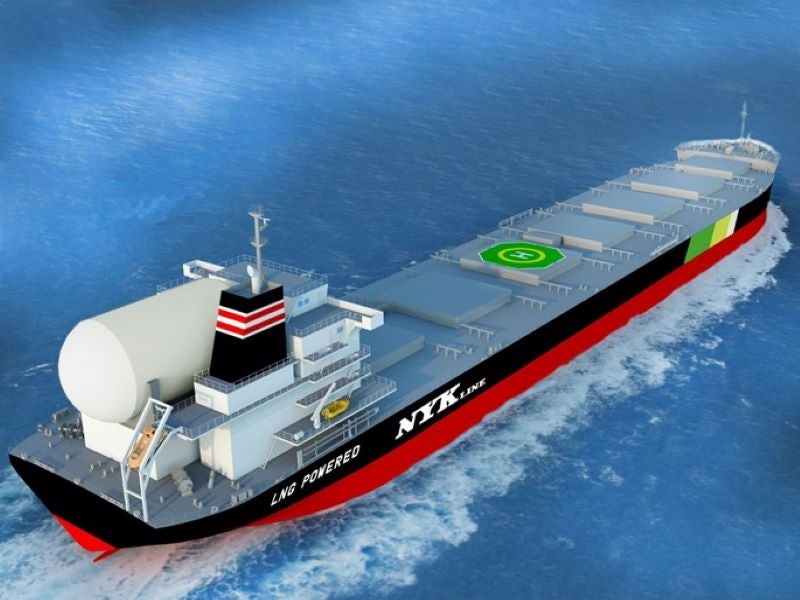 Nippon Yūsen Kabushiki Kaisha (NYK) Line has announced plans to place an order for the construction of two liquefied natural gas (LNG) fuelled large coal carriers with Oshima Shipbuilding.
The new vessels are being ordered by NYK as part of its strategy to attain net-zero greenhouse gas (GHG) emissions in the oceangoing businesses by 2050.
Compared with conventional heavy oil-fuelled vessels, the new ships will emit no sulfur oxides (SOx), 80% less NOx and 30% less carbon dioxide (CO₂), stated NYK.
The ships will also meet the International Maritime Organisation's (IMO) NOx (nitrogen oxide) emission regulations.
With a deadweight tonnage (DWT) of 95,000MT, the new vessels will have an overall length (LOA) of 235m and beam of 38m.
The new large coal carriers are expected to be delivered in 2025.
NYK placed an order for the world's first LNG-fuelled large coal carrier in 2019, followed by an order for the first LNG-fuelled capesize bulk carrier last year.
The company ordered four more LNG-fuelled capsize bulk carriers in January.
The firm plans to deploy LNG-fuelled vessels as a bridge solution until the launch of zero-emission vessels run on marine fuels such as hydrogen or ammonia.
Last month, NYK signed a basic agreement to invest in PT Pertamina International Shipping (PIS) in Indonesia.
A subsidiary of the Indonesian state-owned oil and gas entity PT Pertamina (Persero), PIS will work with NYK on ship management in energy transportation.