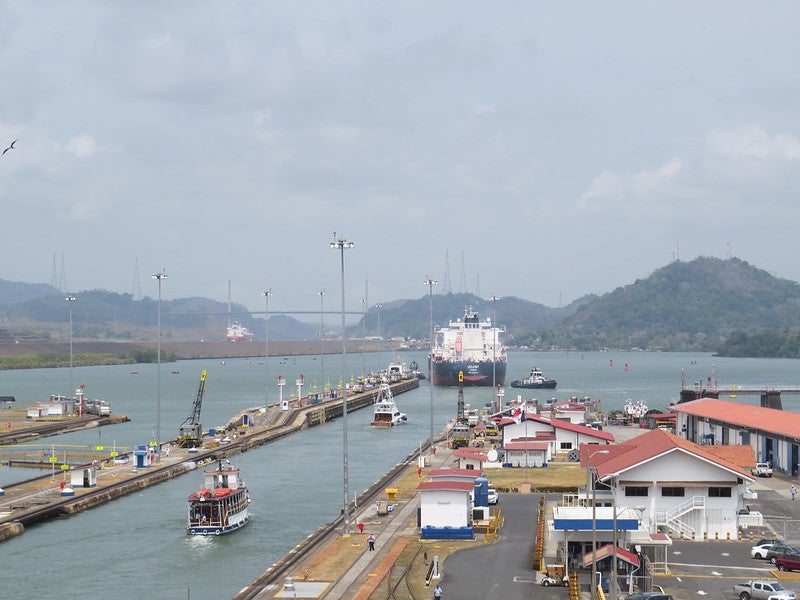 The Panama Canal has decided to impose a freshwater fee on ships to reduce the impact of low water levels.
The freshwater surcharge will come into effect on 15 February.
It has also announced various other measures to maintain the operational level of water, which has been severely affected due to changing rainfall patterns and low water levels at Gatun Lake.
The canal has received 20% lower rainfall compared to the all-time average. It was the fifth driest year in the past 70 years for the Panama Canal. Due to the temperatures rise from 0.5˚C to 1.5˚C, the water evaporation levels increased by 10%.
In the absence of fee and operational changes, the water levels in the Canal would go below the permitted levels for the Neopanamax and Panamax Locks.
Panama Canal will collect freshwater fee from all vessels above 125ft in length. It comprises a fixed charge of $10,000 for a passage.
A variable fee between 1% and 10% will also be imposed based on the water levels of Gatun Lake at the time of transit.
The Panama Canal has also decided to cut daily slots to 27. Each vessel will have to pay the booking fee 48 hours after the booking period.
Regular vessels with a beam of up to 90.99ft have been allocated six slots, while the others with a beam of up to 107ft have 13 slots. Neopanamax will still have eight slots.
The Canal will also charge all vessels a handling service fee when they enter the system. Vessels that are 91ft in beam and above will have to pay $5,000, while vessels with over 125ft in length but lower than 91ft in beam will have to pay $1,500.
To save water, Panama Canal has also adopted some water-saving measures such as the suspension of power generation at the Gatun Hydroelectric Plant and the elimination of hydraulic assistance at the Panamax Locks.