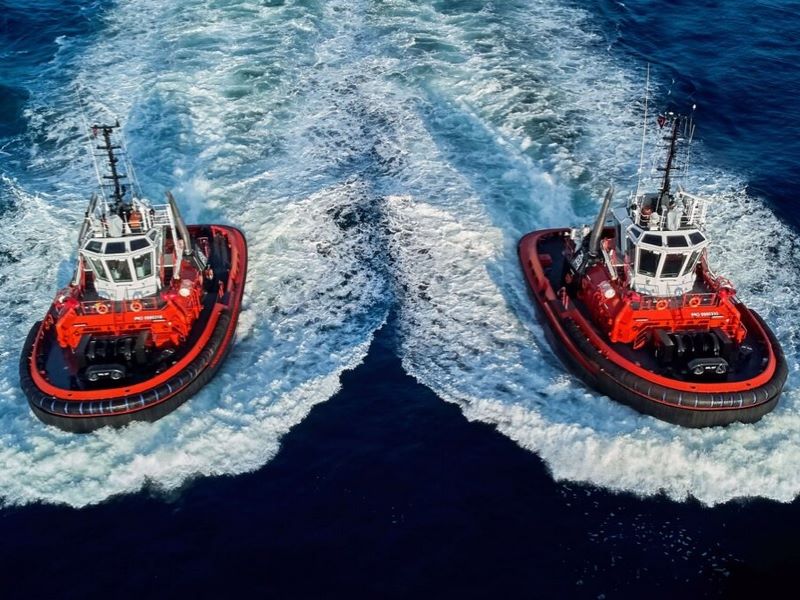 Italian company Rimorchiatori Augusta has taken the delivery of two tugboats from Turkish tugboat builder Sanmar Shipyards.
The new RAmparts 2400SX MKII series of tugs are said to be two of the four tugs that the Turkish firm delivered during the last week of 2022.
Called Bogacay LII and Bogacay LIV while at Sanmar, these new tugs were rechristened as CITTA DI AUGUSTA and CITTA DI SIRACUSA, respectively, by Rimorchiatori Augusta.
Designed by naval architects Robert Allan, the vessels are claimed to be the first IMO Tier III emissions-compliant tugs working in Italian ports.
The "technologically advanced" and environment-friendly tugboats left Sanmar's Tuzla Shipyard on 24 December 2022.
With an overall length of 24.4, both the tugboats feature a moulded beam of 12m and the least moulded depth of 4.5m.
These tugs are suitable for ship-handling duties of sea-going ships, with bollard pulls of 60-plus tonnes and a free running speed of 12 knots.
Installed with electronically-controlled IMO Tier III compliant CAT 3512E main engines, the tugs have a capacity to house up to six crew members.
Each engine can generate 1901kW at 1.800 rev/min to drive standard production US 205 FP 360-degree azimuthing thrusters.
Besides, each of the tugs has a tank capacity of 77.900 litres of fuel oil and 11.500 litres of fresh water.
Sanmar Shipyards chairman Ali Gurun said: "In 2023 our focus will continue to be improving the environmental credentials of our tugs through technological advance and state-of-the-art design.
"This latest version of the popular Bogacay class tugs achieves a new level of low-emission, low environmental impact tugboat operation."
Last year in November, Sanmar Shipyards handed over two tugboats to British towage company SMS Towage.