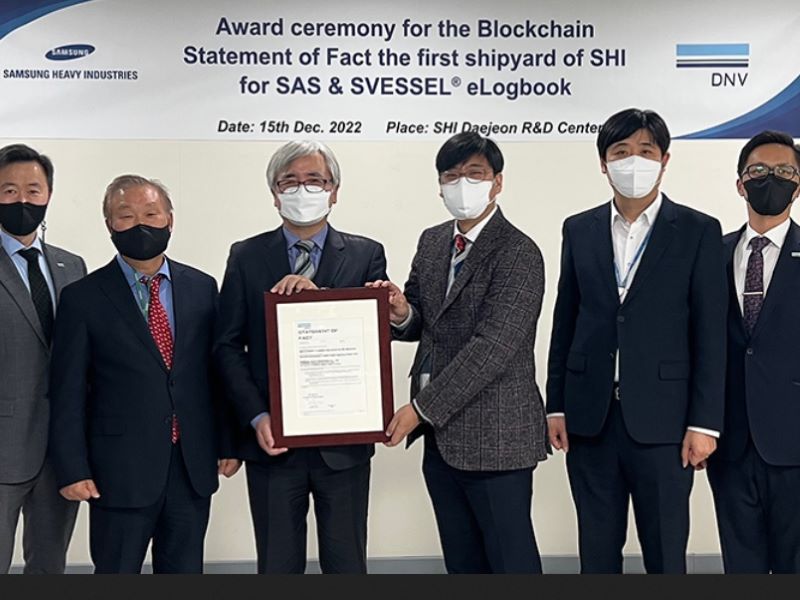 South Korea-based Samsung Heavy Industries (Shi) has received a blockchain Statement of Fact (SoF) from Norwegian classification society DNV.
The SOF was awarded for deploying blockchain technology to its own Samsung Autonomous Ship (SAS) and SVESSEL eLogbook data streams on an operating vessel.
By interfacing SHI's data stream and eLogbook with the VeChainThor blockchain, the project was implemented to show the potential of technology for secure data stream applications on vessels.
Yards, shipping firms, manufacturers and class societies are prioritising the development and verification of autonomous ships to enhance cybersecurity as digitalisation gains ground in the sector, DNV stated.
The blockchain application for the SHI data stream relates to SAS' navigation information, specifically the Collision Risk Index and Distance to the Closest Point of Approach.
Furthermore, the SVESSEL eLogbook satisfying IMO MEPC.312(74) were released through blockchain technology.
SHI Ship and Offshore Research Institute director and vice president Dr Dong Yeon Lee said: "The maritime industry is paying attention to cybersecurity as another key to the digital revolution of ships. Blockchain technology is ground-breaking in data security for autonomous ships.
"We are grateful for DNV's cooperation and look forward to vitalising blockchain technology as a new business in the future."
DNV Korea and Japan regional manager Vidar Dolonen said: "Blockchain technology is an essential requirement for future ships and to respond to upcoming maritime regulations.
"This collaboration with industry leaders has become a meaningful milestone in the digitisation of ships and their safety, and we are proud to be part of it."
Last month, SHI reached a memorandum of understanding (MOU) with Dassault Systèmes for the development of a smart digital shipyard.