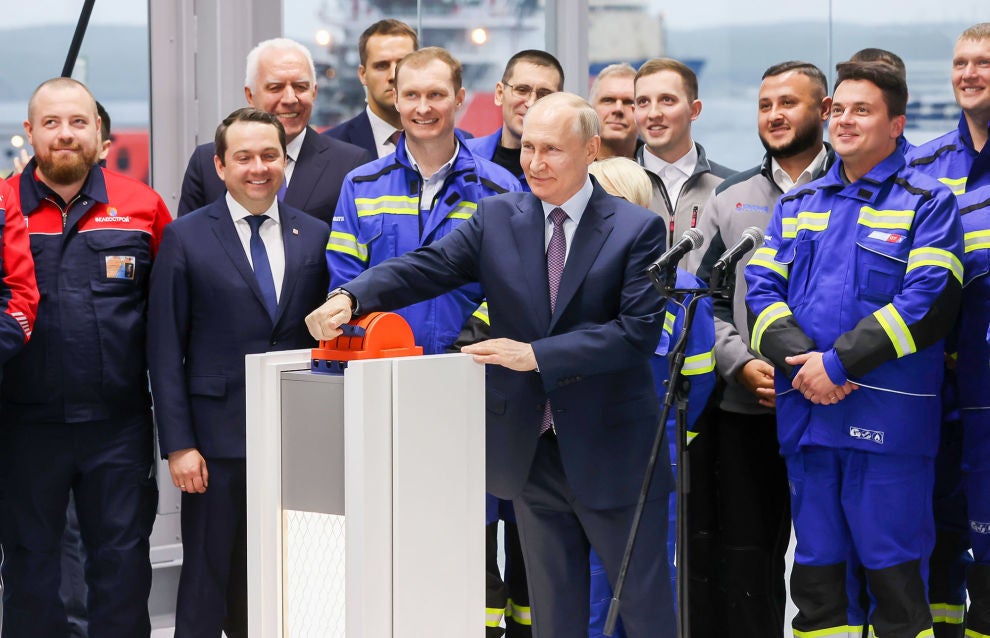 The US State Department has imposed sanctions on five Turkish shipping and trade companies for repairing Russian Defence Ministry vessels, transporting Russian military goods, and helping Russia to evade sanctions.
The surprise announcement, made on 14 September, forms part of a wider package of sanctions against 150 Russia-linked companies and individuals. 37 entities are named in the State Department's press release.
Margiana Construction Foreign Trade, CTL Foreign Trade and Denkar Ship Construction and Demirci Bilişim Ticaret Sanayi are among the Turkish companies facing US sanctions. The latter is alleged to have supplied Russia with hundreds of shipments containing supplies to build military drones.
ID Ship Agency Trade was the fifth Turkish company on the list – along with its owner and director İlker Doğruyo.
The US sanctions come as Turkey and Russia's performance in the transport and shipping industry flags. Not only does Turkey languish far behind global powers such as the US, China and Japan in transport deals, but Ankara's performance is also inferior to nations with smaller economies, GlobalData research shows.
Turkey's GDP is $906bn, compared to the UAE's $507bn or Singapore's $466bn, according to the World Bank, but both nations have far surpassed Turkey in transport deals by value.
On top of the Turkish shipping targets, US sanctions are unambiguously aimed at Russia's Arctic LNG 2 Project.
One of the sanctioned companies is Arctic Transshipment, which operates two floating storage units for the liquified natural gas project and is 60%-owned by Novatek, Arctic LNG 2's developer.
Located in Gydan, Northern Russia, LNG 2 produces 1.45 million tonnes of gas and 19.8 million tonnes of LNG each year, supplying China, Spain, Belgium and Japan. The US has long seen it as a conduit of Russian diplomatic gain, particularly Sino-Russia cooperation.
Geopolitical underpinnings
These sanctions have seen Turkey caught in the backlash of Washington's anti-Russia measures.
President Erdogan has long endeavoured to position Turkey as a bridge between the US, EU and Russia. Turkey has played the role of mediator in the Russia-Ukraine war, with Erdogan imploring Putin to renew the Black Sea grain deal at a summit in Sochi in 4 September.
Until now, relations between Ankara and Washington have largely remained cordial, although the Trump administration did sanction Turkey for purchasing a S-400 missile system worth $2.5bn from Russia in 2020.
The US also said it had previously notified Turkish companies about Russia-aligned activities. US Deputy Treasury Secretary Wall Anderson also briefed Turkish government and business officials on Russian sanctions in August 2022 during a state visit.
This wave of sanctions on some of Turkey's largest shipping and trade companies is expected to cause further turbulence to the country's already flagging transport dealings. It may also jeopardise the US' attempts to fast-track Sweden's NATO application, which Turkey and Hungary have been reluctant to support.
Washington, however, is seemingly unbothered by the possibility of these sanctions derailing Swedish accession.
"We continue to work with them to communicate that NATO accession is important for Sweden, it should happen as soon as possible, and we take President Erdogan's assurances that it will happen at great value," State Department spokesperson Matthew Miller reportedly said. "We don't see these as any way connected, and we don't see that in any way these sanctions should have any impact at all on that accession."
Our signals coverage is powered by GlobalData's Thematic Engine, which tags millions of data items across six alternative datasets — patents, jobs, deals, company filings, social media mentions and news — to themes, sectors and companies. These signals enhance our predictive capabilities, helping us to identify the most disruptive threats across each of the sectors we cover and the companies best placed to succeed.