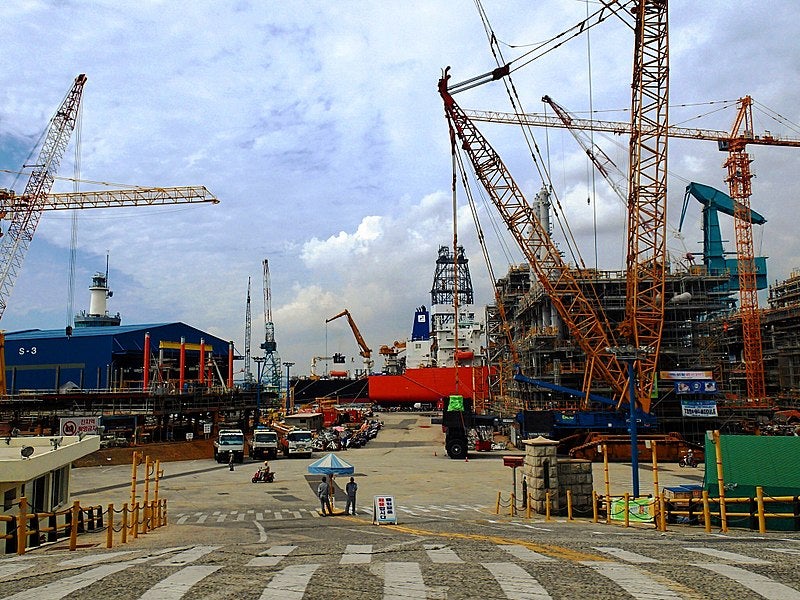 The Competition and Consumer Commission of Singapore (CCCS) has approved the merger between Korea Shipbuilding & Marine Engineering (KSOE) and Daewoo Shipbuilding & Marine Engineering (DSME).
After assessing the merger, the competition watchdog said that the proposed merger will not violate the Competition Act's section 54 prohibition.
In September last year, KSOE applied to the CCCS for a decision regarding the transaction and the organisation could not finalise the decision. Following that, in January, CCCS launched an in-depth review.
CCCS considered the relevant markets that could potentially be affected, including those that supply UL/VLCC 200,000 DWT oil tankers, 15,000 twenty-foot equivalent unit (TEU) post-Panamax containerships, 40,000m3 liquefied natural gas (LNG) carriers and 60,000m3 liquefied petroleum gas (LPG) carriers.
CCCS said: "While market concentrations in the relevant markets will be high post-merger, the evidence does not indicate that the proposed transaction will result in coordination or collusion on prices as shipbuilders tend to have private negotiations with customers, which limit price transparency.
"Shipbuilders may also find it difficult to coordinate on prices as customers perceive differences in quality and experience of shipbuilders."
According to the transaction evaluation, CCCS said that it will not lead to a major decrease in competition in Singapore.
In March last year, Hyundai Heavy Industries (HHI) Group and Korea Development Bank (KDB) have signed a definitive agreement for the acquisition of DSME.
Hyundai Heavy, Hyundai Mipo Dockyard and Hyundai Samho Heavy Industries are managed by KSOE.
To acquire DSME, Hyundai Heavy Industry Group divided Hyundai Heavy Industries into KSOE and Hyundai Heavy Industries Co.
If the acquisition of DSME is approved, Hyundai Heavy Industries Group will manage four shipbuilders.
The EU antitrust regulators resumed their probe into a $1.8bn merger of HHI and DSME. The regulator paused the investigation last week. It is reported to be the third time the investigation was paused.
In June, the regulator set a deadline of 3 December for reaching a decision when it resumed the investigation.
The organisation halted the process on 1 April as it is waiting for information to be provided by the companies.