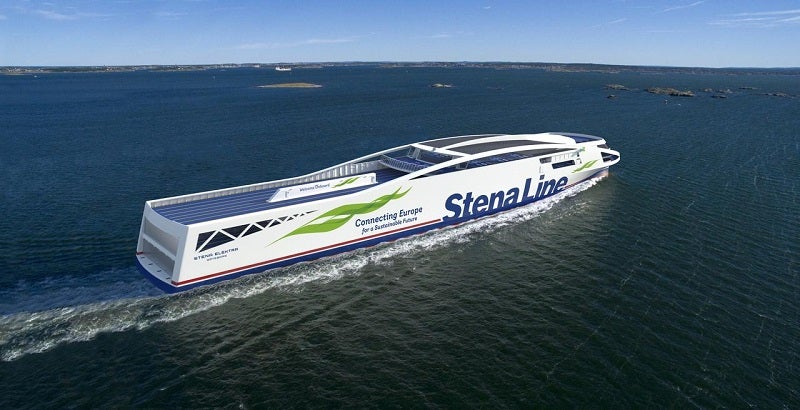 Stena Line, Frederikshavn Municipality and the Port of Frederikshavn have signed an agreement committing to the necessary investments for the launch of two battery-powered Stena Elektra vessels by 2030.
The parties will work together to make Gothenburg-Frederikshavn 'the world's first fossil fuel-free ferry line of its kind'.
With a length of around 200m, the two RoPax ferries will have the capacity for nearly 3,000 lane metres of vehicles.
Said to be the world's first fossil fuel-free RoPax vessels of their size, these ferries will be able to accommodate between 1,000 and 1,500 passengers.
They will have a battery capacity of 60-70 MWh and require a high voltage shore power cable of around 30-40 MW.
The latest collaboration will also include the development of onshore infrastructure, including sustainable charging facilities.
Under the agreement, the Port of Frederikshavn will be responsible for providing the required infrastructure in the port as well as its Danish side surroundings.
Earlier, Stena Line, along with the Volvo Group, Scania and the Port of Gothenburg, introduced the Tranzero Initiative.
This initiative aims to cut CO₂ emissions linked to the Port of Gothenburg by 70% by 2030.
Stena Line also plans to reduce its total carbon emissions by 30% in the same time frame. The move to launch the Stena Elektra vessels is in line with this objective.
Port of Frederikshavn CEO Mikkel Seedorff Sørensen said: "The Port of Frederikshavn shares the high and green ambitions that make this project possible. The city has also shown that it has a unique capacity for change in its DNA, which is evident not least in its sustainability work.
"When we are now taking steps towards making the Gothenburg-Frederikshavn line completely independent of fossil fuels, is not only positive for us, but for the entire Kattegat region."
In 2018, Stena Line invested in battery hybrid power on the Stena Jutlandica, which is currently sailing on the Gothenburg-Frederikshavn route.
So far, this development has resulted in a 1,500tpa reduction of carbon dioxide emissions.
Furthermore, the Frederikshavn Municipality has committed to establishing a sustainable connection between Sweden and Denmark with the two Stena Elektra ships.
In April, Stena Line accelerated its emission reduction plan by ramping up efforts to reduce fossil fuel dependency.