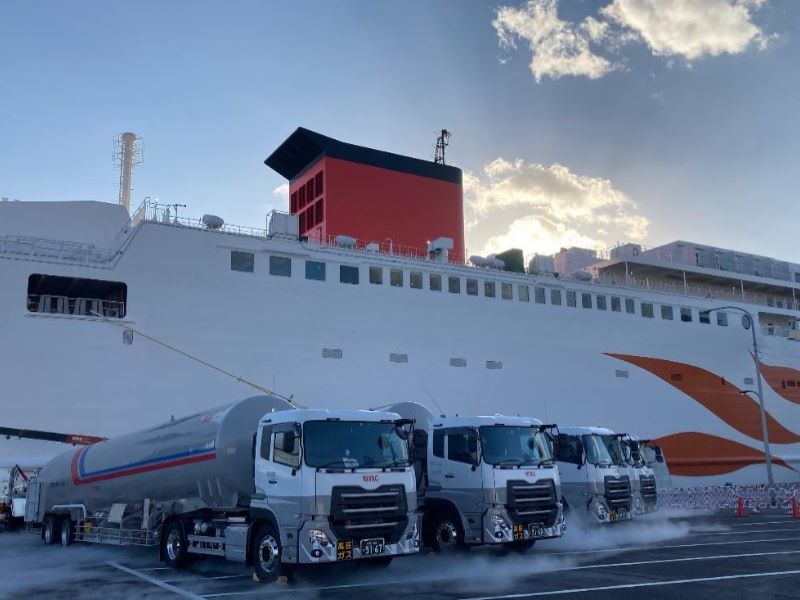 Mitsui OSK Lines (MOL) and Kyushu Electric Power (Kyuden) announced the supply of the first liquefied natural gas (LNG) to Sunflower Kurenai, which is claimed to be Japan's first LNG-driven ferry.
The vessel, which will operate on the Osaka-Beppu route by MOL's company Ferry Sunflower, has received its LNG at the Port of Beppu in Oita Prefecture.
With a skid connecting four tank trucks to the ferry, the LNG was supplied through the truck-to-ship process.
The skid allows the ferry to receive LNG fuel from four tank trucks simultaneously.
Kyuden's group company Oita Liquefied Natural Gas supplied the LNG fuel to the tank trucks, while Niyac shipped the LNG fuel and delivered it to the ferry.
Ferry Sunflower will begin commercial service with the new ferry from Osaka to Beppu on 13 January 2023.
This ferry will receive the LNG fuel during its call at the Port of Beppu.
The LNG fuel "supplied this time will be used for the trial operation ahead of the launch of commercial service."
The three entities will continue to proactively use environment-friendly LNG, as part of their efforts to attain a low-carbon society.
This year in September, MOL collaborated with MOL Techno-Trade (MOLTT) and Akishima Laboratories to enhance fuel efficiency of MOL Group-operated vessels and lower greenhouse gas (GHG) emissions.
The partnership will utilise the capabilities of the three companies to attain this objective.