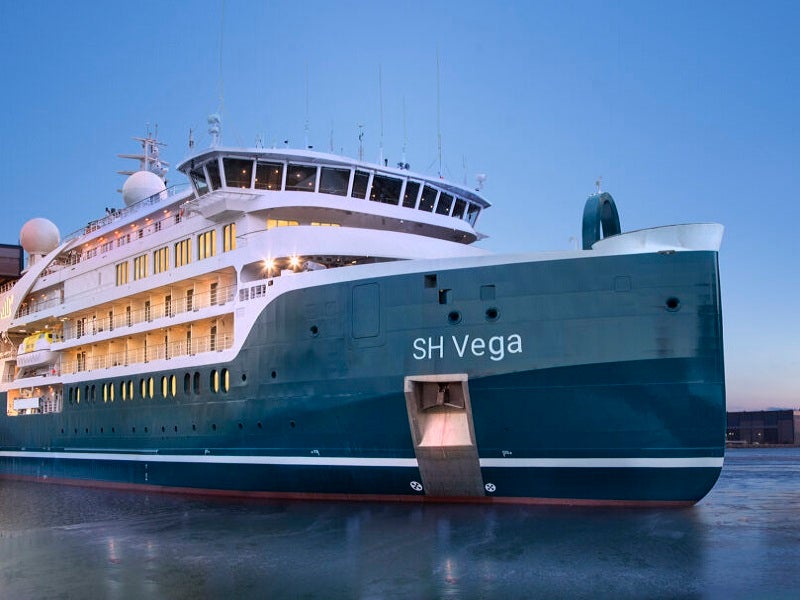 Built at Finland-based Helsinki Shipyard, Swan Hellenic's second expedition cruise ship, named SH Vega, has entered the water.
At present, the shipyard is building a series of three ships for Swan Hellenic.
In September 2020, Helsinki Shipyard laid the keel for the first expedition cruise ship.
Called SH Minerva, the vessel was launched last year and is currently exploring Antarctica.
In June 2021, the shipyard commenced block production for the third ship in the series.
These ships are being engineered to meet the latest emission standards in order to lower their environmental impact.
The vessels' chief engines will feature an exhaust gas cleaning system, along with cleaning and storage facilities for wastewater, waste and waste oil needed for sailing in sensitive polar zones.
For quieter operations, the ships will have a dedicated space for batteries that will utilise electric propeller motors.
The ships will include an infotainment system, expedition laboratory, library for studying marine life, club room, swimming pool with pool bars, as well as gym, spa and sauna facilities, and access to expansive views.
Boat trips to surrounding areas will also be offered using inflatables.
Helsinki Shipyard project manager Jonas Packalén said: "We have now launched newbuilding 517. That figure is pretty much the number of vessels launched at this shipyard over the decades. We are proud to be able to continue the glorious traditions of Helsinki Shipyard with this series of three vessels and to build the shipyard's wonderful future with our newbuilding projects."
SH Vega is equipped with a 4.6-megawatt diesel-electric hybrid-ready propulsion system with selective catalytic reduction.
At 113m, the 10,500 gross register tonnage (GRT) ship also includes a PC5 ice-strengthened hull, which has achieved Safe Return to Port certification.
With 76 cabins and suites, the ship will be able to house 152 guests.
Swan Hellenic will receive SH Vega in May. Thereafter, it will undertake its 11-day maiden cruise from Leith's port of Edinburgh on 29 May.
The third vessel in the fleet, temporarily named Vega Three, will be delivered next year.