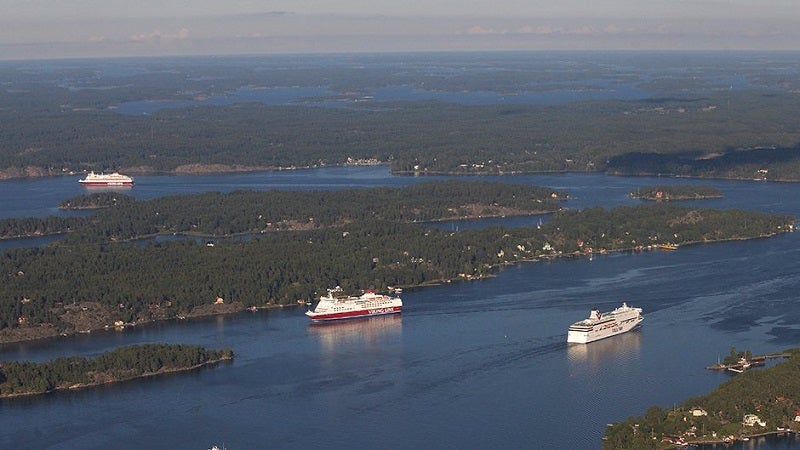 Three Baltic Sea ports, located in Stockholm, Sweden; Helsinki, Finland; and Tallinn, Estonia, are making an investment to establish onshore power electricity connections in a move that is expected to reduce emissions.
In an agreement that set solutions and standards, the trio invested concurrently in onshore power connections at each of the ports.
This initiative is anticipated to reduce the emission of air pollutants from ferries while at the quayside, producing an estimated reduction of more than 18,000t of CO₂ annually.
In the near future, all ferries sailing between the three Baltic Sea ports will be able to receive onshore power.
The partners will work together to make it possible for vessels sailing on the Helsinki-Tallinn route to connect to onshore power.
Ships operating on routes between Stockholm and Helsinki or Stockholm and Tallinn already have access to onshore power near the dock areas.
Stockholm Mayor Anna König Jerlmyr said: "The ferry services between our neighbouring countries function as a bridge across the Baltic Sea. The passenger and goods supply routes are important, and every year 380,000 haulage vehicles or trailers are transported by ferry between the ports in Stockholm, Helsinki and Tallinn.
"The onshore power connections at the Värtahamnen Port are part of an important coordinated environmental initiative with other Baltic Sea ports to achieve our environmental goals."
Before the Covid-19 pandemic, around 200 cargo-loaded ferries were operating each week between the three capital cities.
Annually, around 4,500,000t of freight, or 380,000 haulage vehicles/trailers, and 12 million passengers move between the three ports by ferry.
Port of Tallinn CEO Valdo Kalm said: "Considering the improved air quality and reduced noise pollution, onshore power supply is a great project not only for all citizens and visitors of Tallinn but also for the ship operators, who can positively contribute to the development of the city environment through this project."
In July, Cavotec secured orders to install its automated mooring system, MoorMaster NxG, at either end of a passenger and vehicle ferry service between the Port of Kapellskär in Sweden and Port of Naantali in Finland.