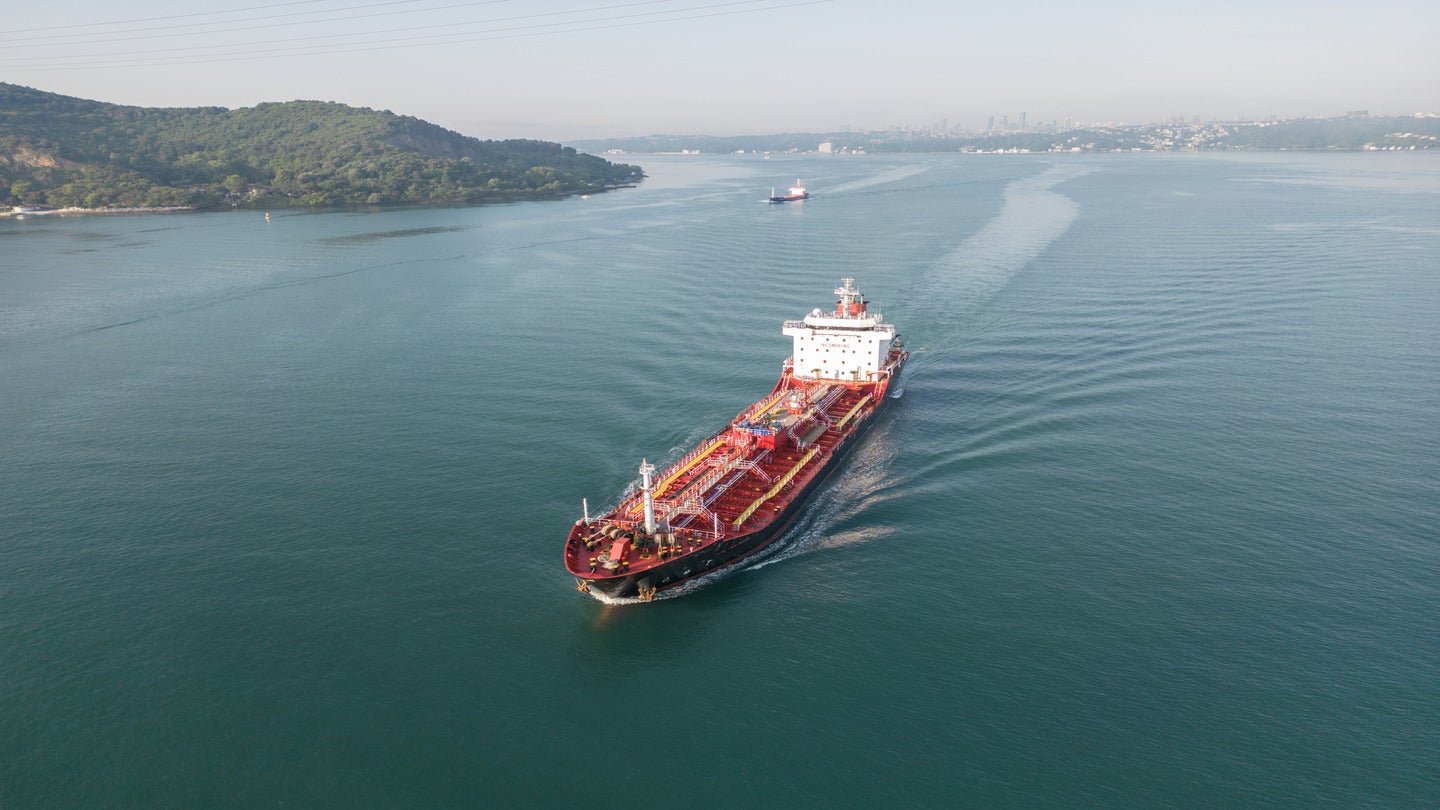 A slew of blockades, skirmishes and Black Sea port attacks have made liquified natural gas (LNG) shipping a daunting prospect since Russia withdrew from the Black Sea Grain Initiative on July 17.
Turkey, home to the longest section of Black Sea coastline and significant port activity, has stepped up efforts to fill the void in gas transport left by Russia's curbing of Europe's LNG supplies. While Black Sea shipping activity has waned since July – and since Russia's invasion in February 2022 – the frequency of Turkey's LNG tanker routes has not, figures from the Turkish Chamber of Shipping reveal.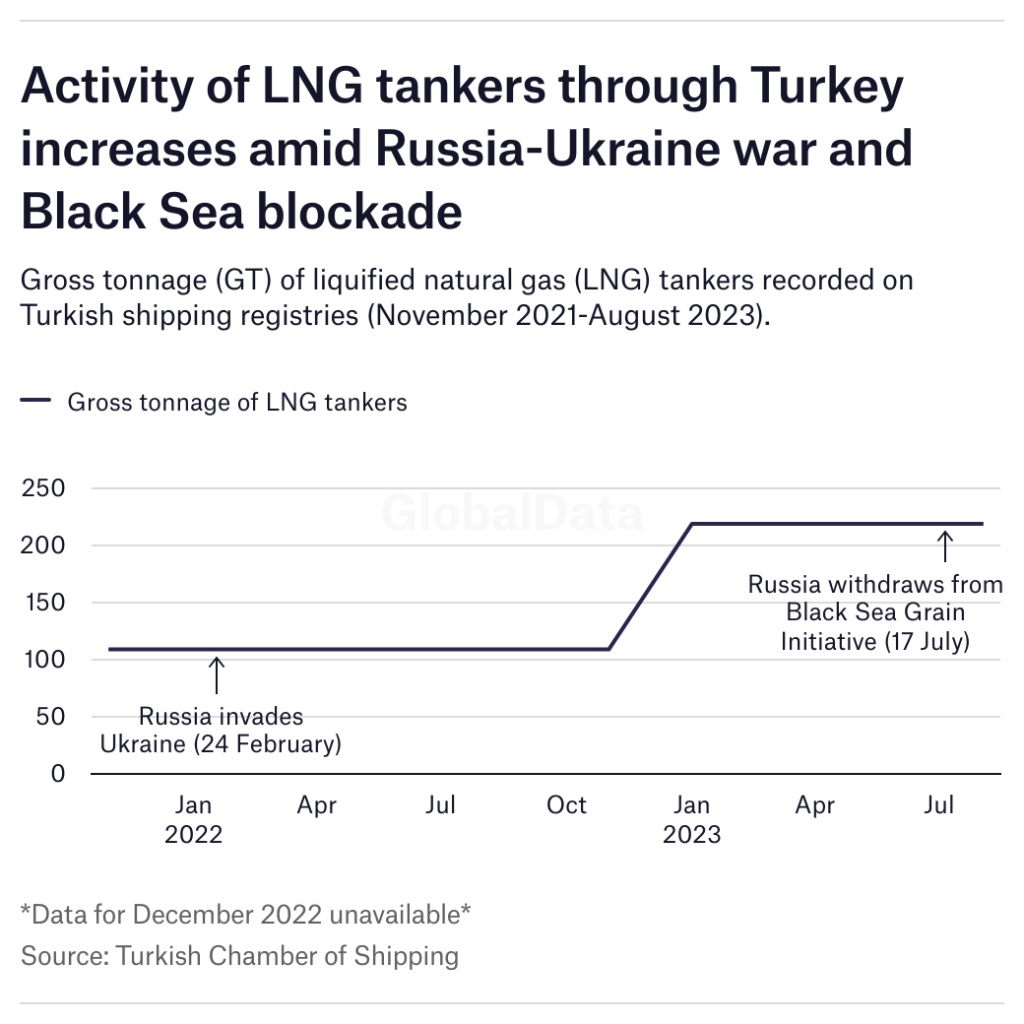 The gross tonnage (GT) of LNG tankers passing through Turkish registries has more than doubled, from 109 GT in January 2022, one month prior to Russia's invasion, up to 219 GT in August 2023. It is worth noting that this increase only occurred from January 2023.
Turkish tankers still operate in the Black Sea, but some shipping activity has shifted to the Sea of Marmara, southwest of Istanbul. Marmara Ereglisi has become an increasingly vital port, overseeing transportation of 8,000m3 of gas through more than 60 LNG carriers each year.
Turkey's geopolitically strategic position connecting Europe and the Southern Gas Corridor nations of Azerbaijan, Iran and Georgia is also key, demonstrated by Ankara's recent deals signed with Bulgarian state-owned gas operator Bulgargaz and Hungarian energy conglomerate MVM. These will allow transport of 1.5 billion cubic meters and 300 million cubic metres of gas per year, respectively, according to GlobalData figures.
Europe looks elsewhere for gas; Turkey plays interlocutor
As Moscow tightens its stranglehold on Black Sea-borne supply chains, Europe has turned to the 3,500km Southern Gas Corridor. Spanning seven countries from Azerbaijan to Germany, the Corridor is made up of a mix of pipelines and shipping routes – most of which are concentrated around the Black Sea and Sea of Marmara.
Turkish President Erdoğan has capitalised on Russia's blockade of Black Sea shipments, drone attacks on Ukrainian ports, and continued restrictions of gas supplies across Europe to expand Turkish influence on LNG transport.
This forms part of Ankara's attempts at neutrality, diplomacy and – some have said – double-dealing throughout the Russia-Ukraine war. Turkey has called for peace while refusing to condemn the invasion and opposing Western sanctions on Russia. Alongside the UN, Erdogan facilitated the Black Sea Grain Initiative to ensure safe passage for grain shipments globally until Russia withdrew on July 17.
But Putin has been cognisant of Erdogan's endeavours to become an alternative energy hub for Europe amid Russia cutting off gas supplies. Tensions in the Black Sea region were at risk of escalating earlier in August following an altercation between a Russian patrol vessel and a Palau-flagged cargo ship in or near Turkish waters.
Nonetheless, Turkey continues to profit from the market disruption caused by the Russia-Ukraine war. Erdogan's 'double agent' tactic may run the risk of a Kremlin backlash or Western trade isolation, but, so far, increased activity along Turkish LNG transport routes for has boosted Ankara's geopolitical influence across Europe and beyond.
Our signals coverage is powered by GlobalData's Thematic Engine, which tags millions of data items across six alternative datasets — patents, jobs, deals, company filings, social media mentions and news — to themes, sectors and companies. These signals enhance our predictive capabilities, helping us to identify the most disruptive threats across each of the sectors we cover and the companies best placed to succeed.