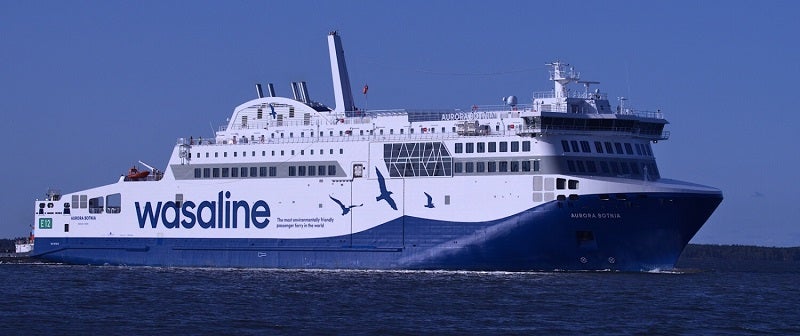 Shipping company Wasaline has taken the delivery of Aurora Botnia, a new liquefied natural gas (LNG)-powered ferry, from Finnish shipbuilder Rauma Marine Constructions (RMC).
The RMC newbuild arrived in Vaasa, Finland, after concluding its second test run at sea.
The ferry will embark on its maiden voyage on 28 August and provide services between Vaasa and Umeå, Sweden, on a regular basis.
Its construction was started in September 2019, with the ship's keel laid in February 2020.
Last September, the ship's launching was celebrated, and Aurora Botnia entered the sea for the first time this June.
With a total cost of $141.14m (€120m), the project lasted roughly two years.
Wasaline CEO Peter Ståhlberg said: "We are now seeing the result of years of work and witnessing a historic day together: a ship designed for Kvarken will start operating. Aurora Botnia is the most environmentally friendly large RoPax ferry in the world, and its degree of domestic origin exceeds 80%."
With a length of 150m and width of 26m, the vessel has a gross tonnage of 24,300t.
It can carry nearly 800 passengers and sail at a speed of 20 knots.
Aurora Botnia has 1,500 lane metres and around 68 cabins.
The vessel features the latest environmental technology, making it the first car and passenger ferry globally to fulfil the norms of the Clean Design class notation.
It has the ability to navigate to and in harbours with electricity, which cuts down on emissions and noise generation.
As the vessel's main machines primarily utilise LNG, the ship emits less sulphur, nitrogen and carbon dioxide. It has also been designed to operate on future fuels, including biogas.
In April, Australia-based TT-Line Company and RMC signed a contract to construct two car and passenger ferries at Rauma shipyard.