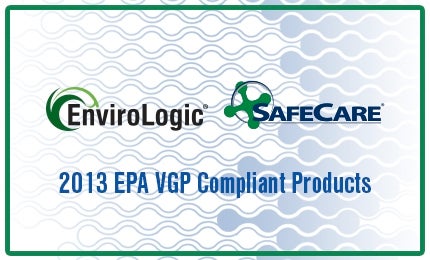 The 2013 EPA Vessel General Permit (VGP) enacted by the US Environmental Protection Agency (EPA) requires that all vessels use environmentally acceptable lubricants in all oil-to-sea interfaces unless technically infeasible. The regulation is applicable to all commercial vessels larger than 79ft operating within three nautical miles of either the US coastline or any one of the Great Lakes.
The good news is that with RSC Bio Solutions' non-sheening, hardworking products, your operations can comply with EPA 2013 VGP without compromising productivity. In fact, many of our readily biodegradable products outperform their petroleum-based alternatives, in both tests and real-world applications.
RSC Bio Solutions' products are certified as environmentally acceptable lubricants (EAL) as defined by the EPA
Readily biodegradable products biodegrade ≥60% within 28 days (according to OECD 301B or ASTM D7373 methods)
Non-sheening and technically feasible
RSC Bio Solutions will be showcasing its range of readily biodegradable hydraulic fluids, lubricants, degreasers...