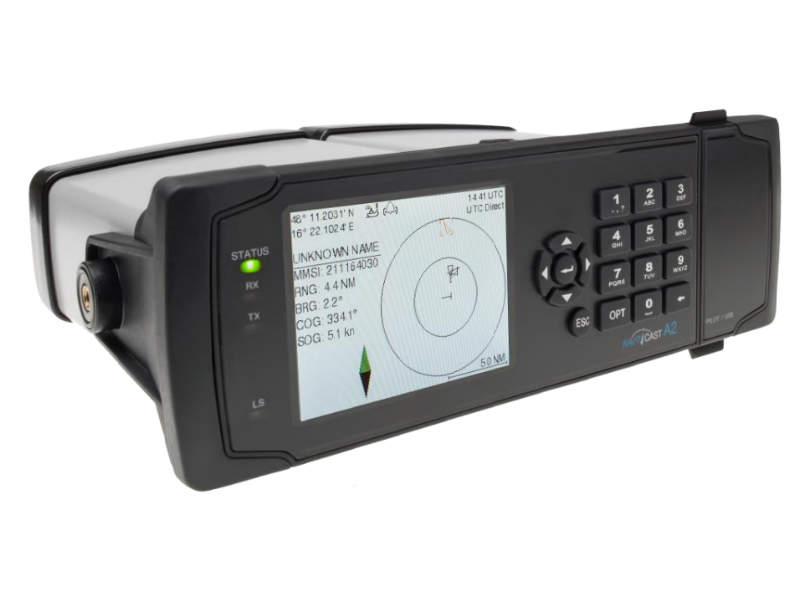 The single-box design of the A2 colour-display transponder allows for easy installation.
RS232/RS422 interfaces (NMEA 0183) and pilot plug guarantee seamless integration into all other ship systems.
A number of professionals regard the Nauticast A2 as the most reliable device in its class. It fulfills all currently available specifications for SOLAS and INLAND AIS as outlined by main authorities such as IMO, ITU, IEC, and CCNR.
It is Wheelmark approved by BSH in compliance with ITU regulation 1371-5, is FCC and USCG certified and Inland AIS approved according to CCNR testing standard 2.0.
Other main features include:
Weatherproof and compact design
Integrated pilot plug in the front panel
Multilingual software (EN, DE, FR, ES, NL, HU, RO)
SART alarm and test support
Intuitive graphical user interface
Quick software upgrade via USB
Technical specifications of the Nauticast A2
Size:
238mm×87mm×173 mm
Weight:
2.20kg
Power:
24VDC (12VDC)
17W average consumption
24W (48W) peak consumption
1A (4A) peak current
Interfaces:
5 × RS422 / 1 × RS232
1 × USB
1 × Digital In (e.g. Blue sign)
Alarm Relay / Pilot plug
Environmental:
Protected (EC 60945-Ed.4)
-15°C to 55°C
Display:
64.5mm×78mm
LED-backlit TFT transmissive LCD
320×240 resolution, 16m colours
450cd/m² luminace
VHF:
SDR Transceiver
Frequency 156-163 MHz
Output power 1/12.5W (±1.5dB)
Sensitivity < -111 dBm
GPS:
50 Channels
Frequency: L1(1575.42 MHz)
Update rate: 1Hz
Antenna feed: 5VDC
Accuracy:
Position <2m DGPS (CEP)
Position <2.5m GPS (CEP)
(SA off)
Sensitivity:
Tracking -162dBm
Cold Start -148dBm