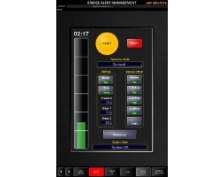 The certified Bridge Alert Management system with integrated BNWAS, BAM le guardian 3000, is able to handle in addition to the binary alert processing, the newest alert telegram standards as 'advanced alert related communication' with ACN, ALC, ALF and ARC according to IEC 61924-2, IEC-62923-1/2, ALR, TXT, ACK and HBT according to IEC 61162-1 (2) communicated via network protocol EN 61162-450 (lightweight ethernet) or serial communication (RS-422).
In general, the bridge alert management system (BAMS) has been designed to give sustained support to the Officer of the Watch, especially in multiple alarm situations by merging all present alarms into a harmonised list on a central screen. This centralised alarm management tool is guiding the OOW by indicating all active alarms of nautical systems in graduated order. The bridge alert management system BAM le guardian 3000 controls all audible alarms on the bridge by a bi-directional alarm, acknowledge and sound off interface. The system provides alarm specific instruction assisting the OOW to react appropriately. A continuous event log ensures data is permanently available for systematic analysis of critical incidents or other exceptionals.
An integrated Type Approved (wheel-marked) bridge navigational watch alarm system (BNWAS) transfers unattended alarms automatically to selected backup officer areas. A connecting module is monitoring all BNWAS alarm devices and reset facilities. Intelligent features, such as a self-test routine, are included as standard, evidence of the company's long-standing experience.