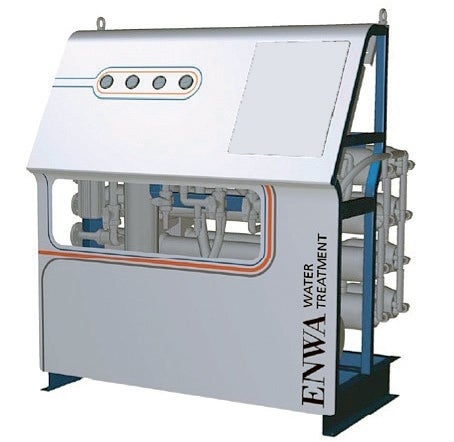 Enwa Watermaker SW 15-37T RO – producing drinking water from seawater using reverse osmosis membrane process
Enwa´s new Watermaker SW series produces drinking water from seawater based upon the reliable and environmentally friendly reverse osmosis membrane technique. The new series is deigned for marine and offshore installations.
The capacity range is between 10-37T per 24 hours from seawater with a temperature of 25°C at a total dissolved solids (TDS) of 35,500. The quality of the produced water is continuously monitored by a built-in salinity meter to ensure compliance with WHO guidelines.
This new and unique design is based upon modular add-on's, in accordance with the highest HSE demands, as well as for easy access, service and maintenance.
The unit, which is Green Passport ready and has a small footprint for Plug and Play operation and installation, is prepared for installation of the energy saving device for all capacities.
The new unique design incorporates a touchscreen display for ergonomic HMI demands, and the unit is prepared for communication to ECR or IACS, for example via profibus / MODBUS.
The standard RO unit includes:
Design that is prepared for modular design add-on's
High-pressure piping system in stainless-steel 316l material
Direct driven media lubricated high-pressure pump
Continuous control of product water quality via a salinity meter and a pneumatic three-way valve
Automatic flush after each stop, via an active carbon cartridge filter (neutralising chlorine) with warning system for maintenance
Low-pressure switch before the HP pump
Hi-Flow cartridge filter 20in, five micron, for feed water
Pressure gauges (four pieces), mounted on gauge board
Pressure relief valves (three pieces)
Digital flow meter for product water, in display
Remote start/stop
Latest membrane design
Optional equipment available for the RO includes:
CIP 100l cleaning tank with pump, heater, stirrer and connections
Re-hardening filter in stainless-steel 316l to increase pH value of product water
Energy recovery unit
UV steriliser
Dosing equipment with or without flow meter for chlorination, anti-scaling or chlorine removal
Pre-filtration sand filters or mechanical automatic back washing filters
Feed pump or pressure-reducing valve for seawater
Second stage membrane system for technical water production
CO2 dosing system
Enwa is pleased to announce that it has signed an exclusive distributorship agreement with the...