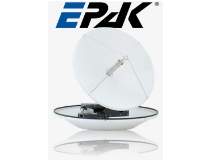 High-speed internet connection on-board marine vessels
Reaching download speeds of up to 20Mb/s and upload speeds of up to 6Mb/s, our VSAT DSi9 Ka is one of the fastest and most reliable marine satellite internet antennas on the market.
The DSi9 Ka, already operating today on several boats in the Mediterranean Sea, the North Sea and the Baltic Sea areas, works on the high-frequency Ka-band, providing the user with a broadband internet connection. The DSi9 Ka connection is able to satisfy even the highest-scale data volume demands, including video phone calls, music and video streaming, and the transferring of large files.
Rolled-out by EPAK in 2013, as the first in the world maritime VSAT antenna system operating on the Ka-band, the DSi9 Ka has redefined the rules of the market.
Easy to install, built with top-quality materials to avoid wear and operate in the harshest weather conditions, with a two-year warranty, the DSi9 Ka can rely on EPAK's technical support team, which is able to respond to emergency cases within 36 hours for Europe and 48 – 54 hours worldwide.