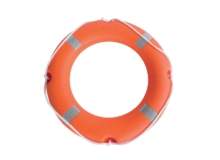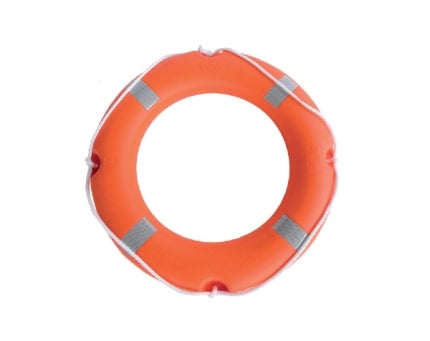 SOLAS 74, LSA CODE, 96/98/EC IMO MSC 81(70) Lifebouys
EVAL's lifebouys, which are ideal for commercial ships and big boats, are made of polyethylene, filled with polyurethane foam and feature retro-reflective tapes, according to SOLAS guidelines.
The lifebouys are available as 2.5kg and 4kg (code 2012*).
EVAL also provides cabinets for the lifebuoys, which are cabinets of distinct orange colour with a lid and post (rope holder/lifeline and lifebuoy are not included).
The cabinet design can store all kinds of lifebuoys with an external diameter from 600mm to 750mm. The lifebuoy cabinet can be placed in marinas, pools, beaches, lakes, rivers and wherever a lifebuoy needs to be positioned for immediate deployment.
Cabinets help to protect life-saving equipment from sun radiation, deterioration and other damage. Methods of installation include pole-fixing, wall-mounting and rail / fence-mounting.
Lifebuoy cabinets and lids are made of durable polyethylene, featuring maximum UV-protection. Mild reinforced galvanised-steel poles allow cabinets to be mounted as standalone systems.
EVAL also supplies lights for lifebuoys, which are automatic and SOLAS-approved.