EVAL S.A. is a producer of marine lifesaving equipment and marine accessories. The company was founded in 1976 and operates in its 5,000m² privately owned premises to ISO – 9001: 2008 standards, while EVAL's products are certified by LLOYD'S, PRS, TUV and RINA.
Marine lifesaving equipment and safety accessories
EVAL is a European producer with SOLAS / MED certification offering a full range of marine lifesaving equipment, for everything from leisure boats up to vessels, including lifejackets, inflatable lifejackets, lifebuoy, lifejackets and lifebuoy lights, CE buoyancy aids.
Furthermore, the company's product range exceeds 6,000 marine accessory codes, docking and anchoring equipment, standard, electrical and electronic equipment, hydraulic equipment, fishing equipment and water sports.
International marine client base
EVAL's export activities expand worldwide including the EU, East and Central Europe, Baltic area, Middle East, United Arab Emirates, Africa, Canada, Asia, Australia and the US.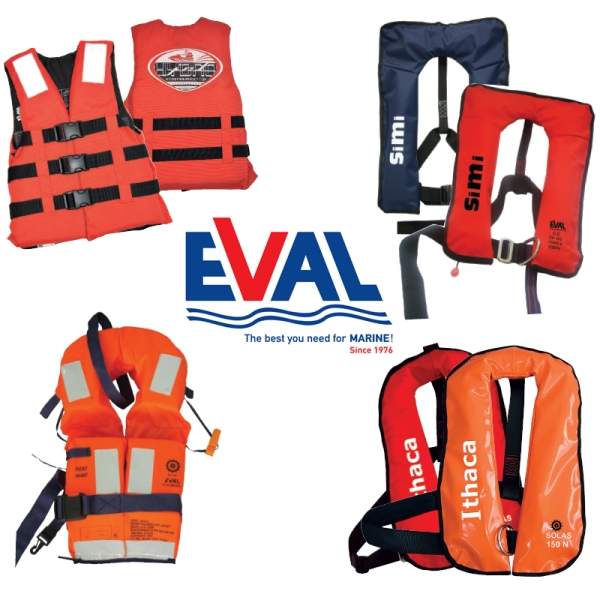 EVAL manufactures a wide range of lifejackets and buoyancy aids, many of which are SOLAS standard.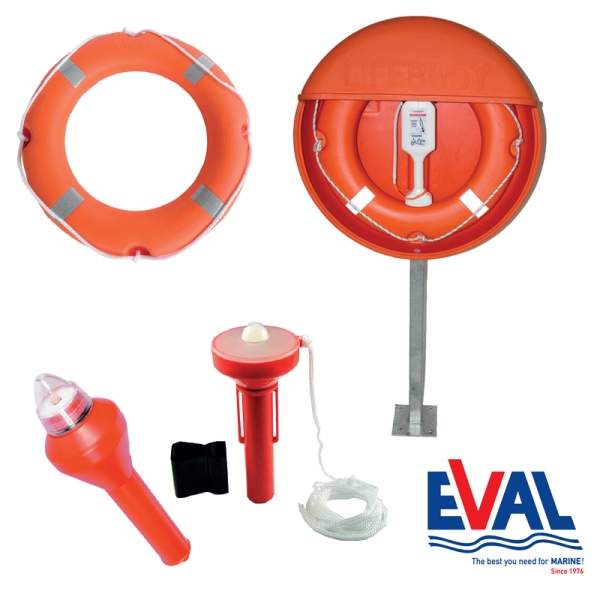 The company's lifebuoys and associated lights are suitable for large-scale commercial and recreational vessels.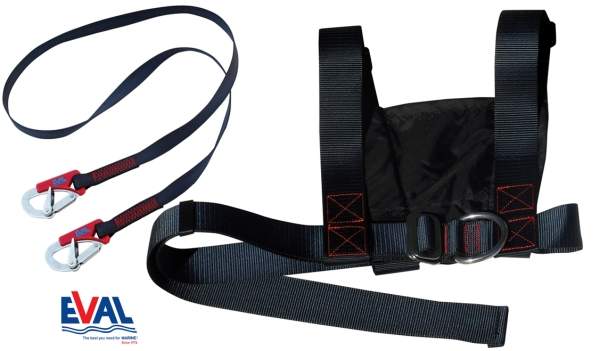 EVAL safety harnesses are designed for use on small boats, even in racing conditions.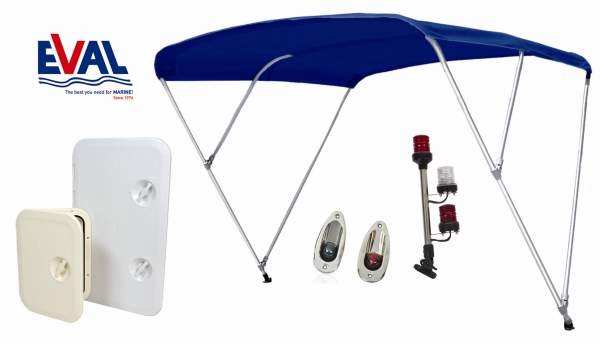 The company also manufactures a large number of marine accessories, including hatches and tents.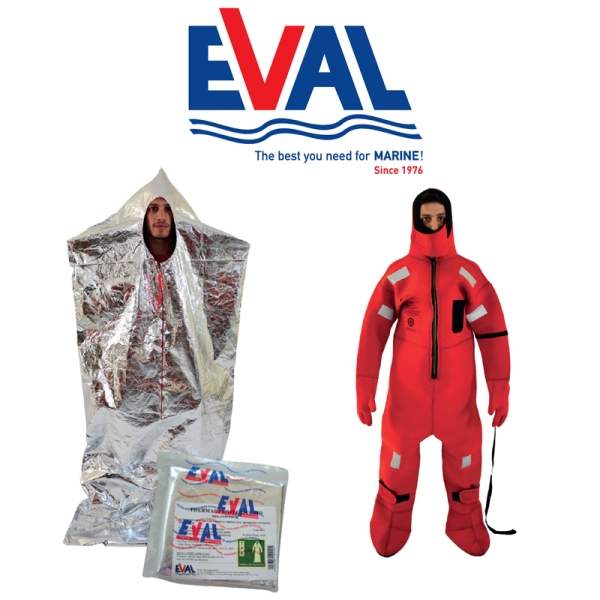 EVAL's thermal protective aids and immersion suits protect against hypothermia in the harsh marine environment.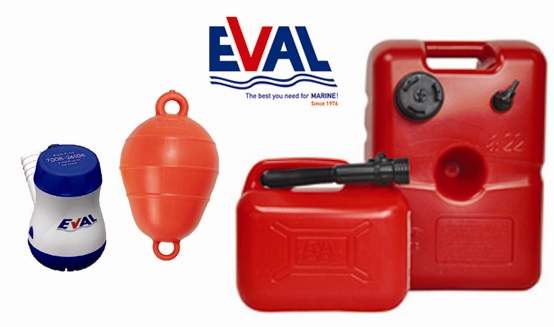 Additional accessories include fuel tanks and fishing buoys.
EVAL has a strong client-oriented philosophy based on the company's quality infrastructure, specialised personnel, active research and development department, vigorous quality control tests throughout the whole production line, effective client-service and 37 years of experience in the global market.
Manufacturer of lifesaving equipment: lifejackets and buoyancy aids
EVAL's SOLAS lifejackets have a simple and ergonomic design that makes putting them on quick and easy for the user. They are designed according to latest regulations, even for overweight people. For those with minimal onboard storage space, a foldable SOLAS lifejacket has been developed (product code 2010-4).
SIMI, the inflatable lifejacket with EN ISO12402-3 150N (165N when fully inflated) is a combination of small size, comfort, style and ergonomic design. It is suitable for any type of motor boat or sailing boat. Emphasis has been given to its quality materials, and it has been thoroughly tested for added safety at sea. Available in red or blue, the lifejackets come with a manually or automatically operated mechanism with a plastic or metal buckle, and a manual or automatically operated mechanism with D ring. The model has one chamber (product code 4326-1).
EVAL's range also includes a special series for children with decorative designs.
EVAL's buoyancy aids, 50N, are designed for use during water sports, and are available in various designs and colour combinations to meet different user needs. They are produced according to the EN ISO 12402-5 standard and are available with two, three or four straps.
Lifebuoys and automatic safety lights
EVAL manufactures SOLAS 74 lifebuoys for commercial ships and large and recreational boats. Made of polyethylene and filled with polyurethane foam, they are available in various sizes (product code 2012).
The lifebuoy light is approved according to SOLAS 74, LSA CODE, 96/98/EC IMO MSC 81(70) and MSC.218(82). It has an automatic switch-on that is triggered by overturning. Powered with four alkaline batteries, LR20 type D, it provides light at 2cd for at least two hours (product code 2961).
Immersion suits and thermal protective aids
EVAL's immersion suits are tested and approved to SOLAS LSA code MSC 81/70.
They are intented for general commercial use and protect against hypothermia inside water. For total waterproof protection, the suits are made of neoprene material and feature glued and blind-stictched seams. The suits, which are equipped with a waterproof zipper, watertight hood, whistle, reflective tapes, neoprene pocket and fingered neoprene gloves, can be put on easily and do not obstruct freedom of movement (product code 4851).
The thermal protective aid (TPA) is approved according to SOLAS LSA code MSC 81/70 and are designed for hypothermia protection during prolonged exposure in life rafts and rescue boats, keeping users warm and protected against rain, wind and cold. The TPA is manufactured with waterproof fabric with low thermal conductivity to reduce heat loss and is designed to be worn over lifejackets so it can be easily removed when not needed. Optional sleeves are available for the TPA (product code 2943).
Manufacturer of marine accessories
EVAL manufactures hatches, vents, thru-hull fittings, plugs, roll bars, ladders, tents, paddles, boat and engine covers, consoles and LED navigation lights, fishing buoys, fuel tanks and canisters, trolleys for outboard engines, speakers, bilge pumps and many more.
EVAL ensures its quality control department is well-equipped and staffed with specialised engineers. Regulatory compliance is ensured as every single lot sample is thoroughly tested before entering the market, and there is a continuous co-operation with the notified bodies.
EVAL's catalogue is available in nine languages from our website. To find out more about our products and services, or to make an enquiry, please contact us using the details or form below.