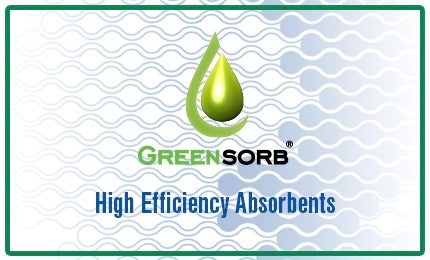 Safer for people and the environment, GreenSorb® is a clay based, highly efficient absorbent ideal for a variety of marine applications, from deck cleaning to handling spills in shipyards. GreenSorb works by encapsulating liquids, which may allow the absorbent to be reused. Ultimately, there's less material to dispose of after cleanups, reducing the cost of disposal (particularly with hazardous materials), which makes GreenSorb more economical than other absorbent solutions. Not to mention, it works better.
Crushed clay and alumina silicate both pose respiratory health risks to employees, sorbent pads are time-consuming and Diatomaceous Earth powder and alternatives made from plant byproducts are lightweight and overly dusty. In addition to being non-leaching and low-dusting (GreenSorb improves workplace safety by 20 times dust reduction compared with a typical crushed clay absorbent), this proven product consists of a gritty, non-slip material, resulting in safe cleaning of both indoor and outdoor spills. Plus, it can be used to absorb any industrial oils, solvents, hydraulic fluids or grease. GreenSorb is perfect for use with SAFECARE® SuperSolv™ Safety Solvent or CSR-3000 Solvent Cleaner; powerful, water miscible cleaners that remove most organic and inorganic materials without damaging cleaning surfaces.
Efficient:
Cleans more with less and is reusable
Reduced handling and storage costs
Works fast, just pour and sweep
Safe:
Low dusting (20 times less than crushed clay)
Can convert hazmat liquids into dry, solid waste (dependent upon EPA TCLP compliant test and disposition)
Non-slip material reduces fall hazards
Proven:
Meets OSHA limits of respirable crystalline silica (<0.1%)
USDA BioPreferred® listed and can meet EPA TCLP testing
Third party laboratory validation of claims
Versatile:
Absorbs industrial oils, solvents and fluids
Effective for jet fuel and Skydrol spills or leaks
Quickly absorbs most liquid spills, such as chemicals, paints, acids, fuels and oils
RSC Bio Solutions will be showcasing its range of readily biodegradable hydraulic fluids, lubricants, degreasers...