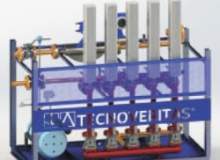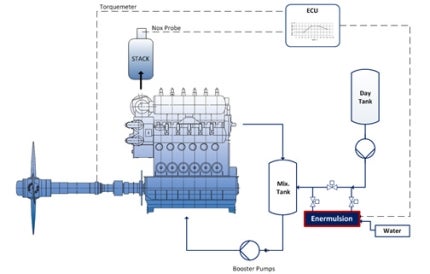 To address the urgent issues of escalating fuel prices and stricter emission restrictions, TecnoVeritas developed Enermulsion, an innovative solution designed to reduce exhaust emissions (NOx, CO, VOCs and PM) while simultaneously reducing fuel consumption.
Enermulsion produces instant in-line stable water-in-oil emulsion fuel through its innovative ultrasonic cavitation homogenising system. While ensuring better combustion conditions and lower fuel consumption, air pollutants such as NOx and black carbon/soot are significantly reduced. Combustion systems and exhaust components also become cleaner (boiler and economiser tubes, turbines and engine parts), which results in lower maintenance costs.
Enermulsion can provide multiple fuel types with water emulsions, including lighter fuels (LFO, IFO, MDO or GO) and heavy fuel oil (HFO) to achieve emission and fuel savings.
How can Enermulsion save you money and make your vessels greener at the same time?
Avoid excessive port fees, fines and time by complying with emission regulations without the need for costly emission-control equipment
Save fuel by achieving better specific fuel consumption
Cleaner combustion eliminates soot deposition and reduces combustion and exhaust system maintenance costs
Emission and Fuel Consumption Reduction

|   | Emission Reduction | Fuel Consumption Reduction |
| --- | --- | --- |
| NOx | From 25% to 50% | Up to 5% |
| PM | From 60% to 90% |   |
| CO2 | Typically 5% to 15% |   |