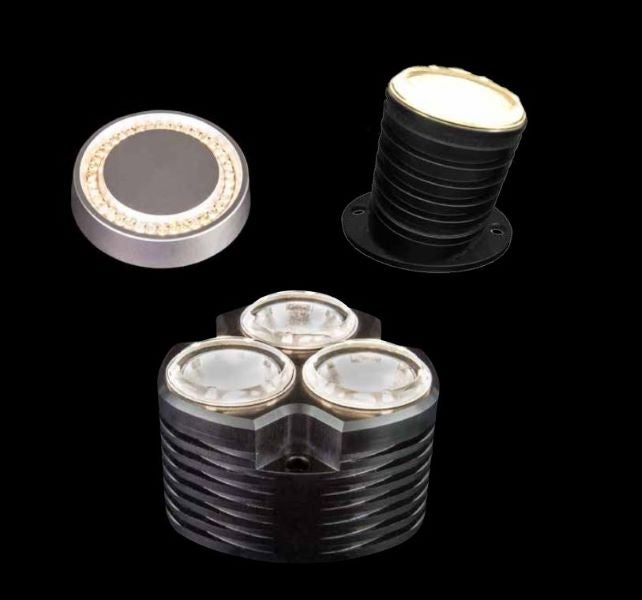 Waterproof, rugged, minimalistic, and iconic design are the common denominators for the Lopolight range of lights for illumination. All the lights come with epoxy/polyurethane, and are vibration proof in addition to the IP68 water proofing.
The materials used are high quality LEDs, from Cree or Nichia, set in paintable silver or black anodised housings with solid driver electronics. As usual, we are backing these promises with a strong five year warranty.
Low profile series
Two basic shapes: surface or flush mount. These extremely low profile lights are emitting light so they, for some versions, challenge the light output of a 20W Halogen lamp while only consuming 2.4W. All lights in this series are dimmable.
The 6W white high intensity LED lights can be focused to 74°, 36°, 26° or even 6° light beam angles,
perfect for up and down lighting mast applications. The 10° multi adjustable wedge, supplied with the light, ensures a simple and effective installation on all masts. The reflectors can be changed easily, even after installation, and are extremely effective.
The light is also available in a flush mount version for in-boom or in-spreader mounting.
Built for the largest and most demanding applications, this 30W LED is extremely intense. Each of the three LED clusters can be individually configured to 74°, 36°, 26° or even 6° light beam.
The light can be dimmed using the built-in communication bus, reducing cable runs and weight on multiple light installations, giving a simpler installation. For larger installations, we even have a control panel.