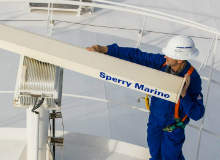 Sperry Marine offers comprehensive after sales support services, with 15,000 annual service requests for its navigation systems. Services are provided for maintenance, repair, installation and retrofit of most vessel classes.
Worldwide 24 hours a day service
With over more than worldwide offices and 100 service agents worldwide, you can rely on highly qualified engineers 24 hours a day, 365 days a year. Our dedicated and skilled Marine Service Engineers deliver shipboard maintenance and repair services at every major seaport in the world and provide on-call shipboard service.
Reliable service from highly qualified engineers
Our Service Agents support our reliable service co-ordination. When service is needed, an efficient, fast fix rate is cost effective. Our Service Co-ordinators and engineers deliver a high first time fix rate with their knowledge and expertise. We provide quick shipboard maintenance and repair services for all Sperry Marine products and offer flexible maintenance contracts.
Key benefits of our services:
Worldwide 24/7 service with skilled and trained marine service engineers
Global network of service partners for fast service
Spare parts held at strategic locations for reliable, speedy delivery
High first time fix rate
Offshore services
Dedicated, qualified engineers for support and emergencies
A full overview of our services:
Spare parts
Maintenance contracts
Annual performance tests
Training
Offshore services
Dry dock fin stabiliser overhauls