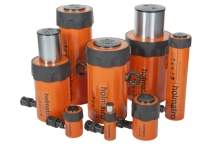 Multi-purpose cylinders
Using the latest technologies as a starting point, our engineers have once again succeeded in putting the multi-purpose cylinder concept into practice. The result: the Holmatro range that offers appropriate solutions for the most varied applications. With 50 different models in the range and the high quality of the multi-purpose cylinders, Holmatro has set a new high standard.
Controlled range of power cylinders
Holmatro industrial tools offer you a flexible, applicable and controlled power from five tonnes to 1,500t tonnes and high quality products for almost any application you can think of.
Features and benefits of Holmatro multi-purpose cylinders
A range of 50 models with different tonnages and stroke lengths
Collar thread and base mounting holes
Internal plunger thread on all models up to 50t
Duplex Power Coating makes the plunger corrosion-resistant
Duo Power Ring: seal and bearing for long-life span
Thread Protector protects the thread on the cylinder housing
XL Saddle+ protects the plunger and limits eccentric loads