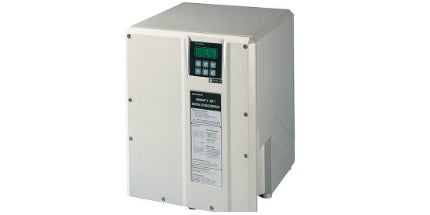 Grumman Sperry Marine's NAVIGAT X MK 1 is a new-generation advanced marine gyro compass system that meets modern navigation and ship control technology demands.
The NAVIGAT X MK 1 Gyro Compass is the first of its type to be designed as a single unit and can be installed on any bridge on any vessel.
North stabilisation during short power failures
With more than 100 years of experience in the marine gyro compass industry, Northrop Grumman Sperry Marine delivers an advanced low weight marine gyrocompass. The unique method of supporting the system by means of mere buoyancy, ensures north stabilisation during short power failures.
The Gyro Compass from Northrop Grumman Sperry Marine ensures high accuracy and maximum reliability under all environmental conditions. The Gyro Compass uses a data transmission technology instead of using slip rings. Providing proven technology and long maintenance periods, the Gyro Compass is a long-time secure investment, with low operation costs.
Extreme weather conditions
The NAVIGAT X MK 1 Mod 7 marine gyro compass provides highly accurate heading information in extremely heavy seas. The system is equipped with a special gyrosphere container, with a unique centering pin retaining arrangement that is mounted in an additional gimbal system. This allows an almost unlimited freedom of roll and pitch (±90°).
Key benefits of Gyro Compass NAVIGAT X MK 1:
Complies with IMO regulations A.424(IX), A.694(17), A.821(19): high-speed craft (HSC) and ISO 8728
Comprising one single unit
Type-approved rate-of-turn output
Gyro system remains north stabilised during power interruptions of up to three minutes
Short maintenance and repair times: low service costs
We help you achieve continued operational performance, at all times with the highest quality marine...