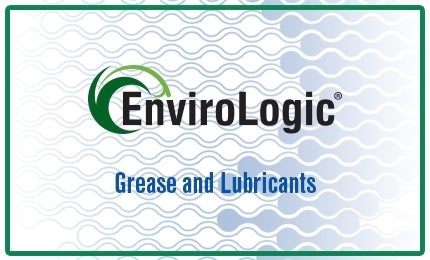 EnviroLogic® 802 is a multi-purpose, lithium-complex, biodegradable NLGI #2 EP grease. It demonstrates excellent dropping point, water resistance and structure stability over an extremely wide range of temperatures. EnviroLogic 802 is formulated to possess excellent oxidative stability, corrosion protection and AW/EP protection. This product was specially designed for high performance in industrial equipment applications where incidental environmental exposure of the lubricant is a cause for concern. It is biodegradable and will not cause harm to turf, plants or animals. EnviroLogic 802 is an environmentally acceptable lubricant (EAL), compliant with 2013 US EPA VGP.
EnviroLogic® 268 wire rope, cable and chain lubricant is a readily biodegradable, low-toxicity ISO 46 grade oil for use in heavy duty wire rope, cable and chain lines. EnviroLogic 268 is based on natural ester technology and is a direct replacement for mineral oil based chain lubricants. It exceeds the requirements of petroleum based wire rope, cable and chain lubricants and has excellent AW characteristics. EnviroLogic 268 contains a special tackiness agent to reduce "sling off" from wire rope, cable and chain operations at high speed. The product has excellent tackiness and pour point and contains a corrosion inhibitor for protection from moisture. It is readily biodegradable with low toxicity, which reduces harmful effects when discharged into the environment. EnviroLogic 268 is an EAL, compliant with 2013 US EPA VGP.
RSC Bio Solutions will be showcasing its range of readily biodegradable hydraulic fluids, lubricants, degreasers...