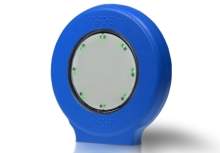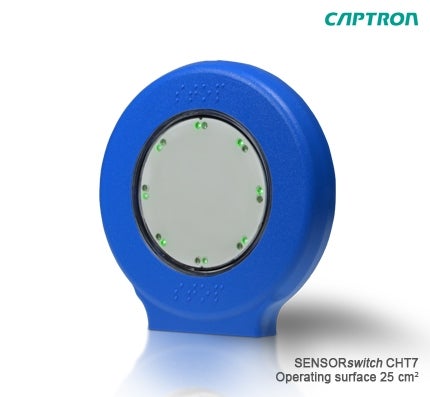 SENSORswitch CHT7 for vehicle windscreens or door inner panels
The capacitive switches of the CHT7 series can be glued directly on to glass on a vehicle windscreen or on a door's inner panels. These door opening switches were specially designed to be used in the areas of building technology and traffic technology and can be fastened with a simple adhesive mounting, without the need for boreholes or holes in glass panes. Screen printing on the pane is not necessary due to the sight cover on the outside of the switch.
Accessibility: braille and relief arrows on the switch housing
With the "CHT7" SENSORswitch series, CAPTRON is offering traffic and building technology reliable and precise sensor technology for specific requirements and applications. SENSORswitches can be equipped with braille and relief arrows as well as vibration technology for disabled-friendly use. The optical feedback of the switches to display the activation status is carried out by 16 colourful and bright LEDs.
The CAPTRON switches offer simple capacitive operability, which is possible without applying pressure or effort, and unique high life-expectancy with several million switching cycles. The CHT7 series features:
The CHT7-1 is ideal for wall mounting on even and printed glass surfaces
The CHT7-1/PL is idea for transparent glass surfaces and includes a sight cover with adhesive film
The CHT7-6 is ideal for corner mounting on window or door profiles