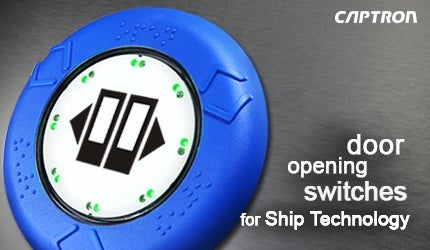 CAPTRON has made a name for itself in innovative and advanced sensor technology since 1983. The company is specialised in developing and manufacturing capacitive sensors for use in the areas of industrial automation, traffic and transport, and building technology.
The SENSORswitches are especially qualified for ship engineering, since they are fully electronic and contain no mechanical elements. Since 1994, CAPTRON Electronic has produced capacitive touch control buttons for traffic engineering applications. Capacitive door opening buttons have seen successful use in safety devices for public transport, such as information and emergency call pillars, since 2006. CAPTRON received DIN EN ISO 9001:2008 certification in May 2009.
Door opening buttons for harsh environments
The touch sensors are capacitive proximity switches for harsh environments, especially for the traffic and transport industry (fulfilling IP69K protection). Intelligent and high-tech sensor technology prevents accidental operation of the door opening button due to salt water, dirt, rain or frost. They are used worldwide in mega yachts, private yachts, cruise ships and ferry boats.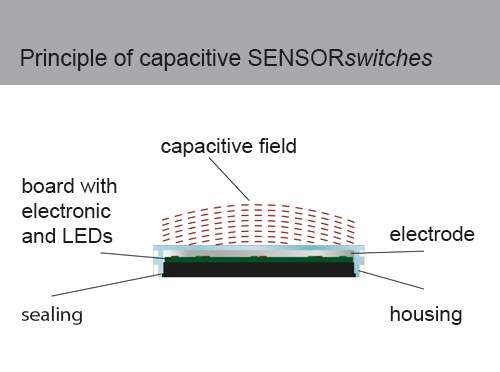 CAPTRON SENSORswitches are capacitive buttons that are triggered by hand contact alone, without the need to apply any pressure, making them ideal and user-friendly solutions for all manner of applications.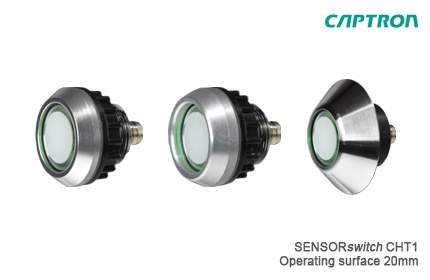 CAPTRON is specialised in capacitive sensors that find a broad range of uses in the traffic and transport sector, including as switches and door openers in industry applications.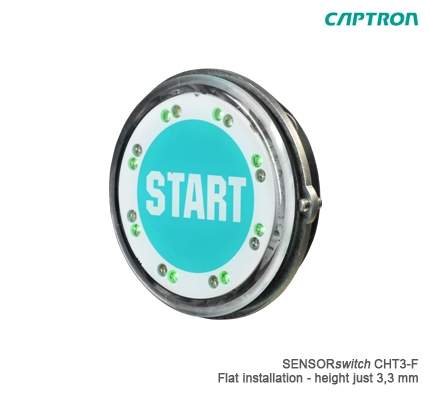 CHT3 SENSORswitches have a contact surface measuring 50mm in diameter, and the CHT cover ring comes in a broad selection of types and colours.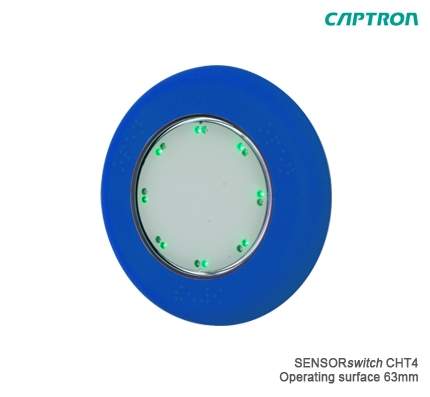 CHT4 SENSORswitches, with a contact surface of 63mm diameter, can be wall-mounted or installed on the interior or exterior of a door, thanks to their extreme flexibility.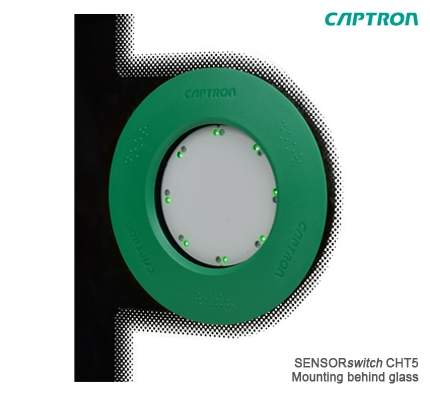 CHT5 SENSORswitches are designed to be mounted adhesively behind glass without the need for a cut-out. Operation of the touch sensor is possible either inside or outside the vehicle, right through the glass.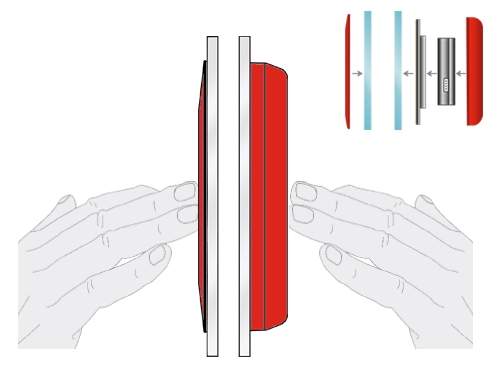 CHT51 SENSORswitches offer two-sided operation through double panes of glass. A CHT51 SENSORswitch glued onto the glass pane of a vehicle door, for instance, can be activated from either side.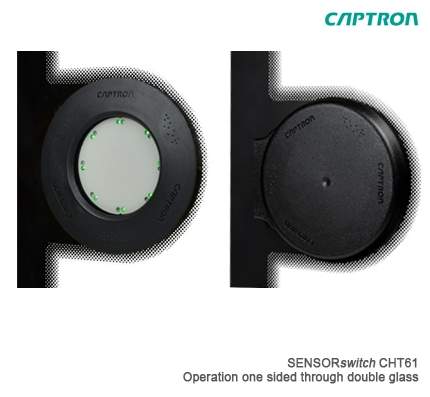 CHT6/CHT61 SENSORswitches can be mounted behind glass on the inside of a door using adhesive tape. There is no need to cut a hole in the glass.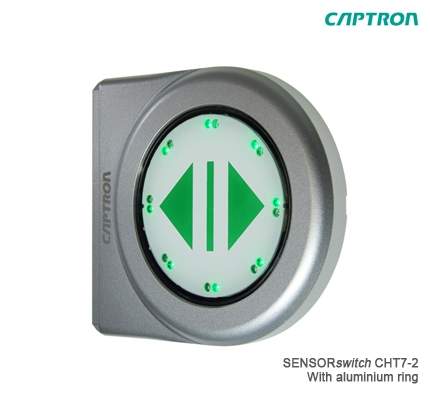 CHT7 SENSORswitches are mounted on glass or on walls, with one-sided operation.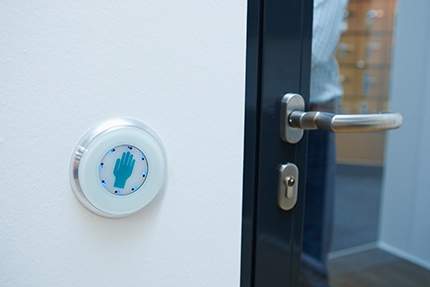 CHT9-G is a specially designed hygienic door opening button, whose entire front is made of toughened glass, making it ideal for hygienic cleaning.
Our fully electronic foot door opening buttons are also used in catering areas of open-plan kitchens. Frequent use, dirt or shocks are no problem for the sensor. Furthermore, the SENSORswitches work smoothly, even under hard and constant vibration, jerking or shaking.
Touch sensor door buttons
Thanks to the capacitive principle, only a light touch on the sensor area is required and the operation starts without any force or pressure. In the field of door automation they are excellently suited for people with disabilities, due to features such as a coloured ring with relief, braille and a large surface area up to 63mm in diameter.
The modern design also ensures that visual feedback occurs by separately controllable LED colours and 16 bright LEDs. Next to the optical feedback you also receive an audible and tactile confirmation through a signal tone transmitter and vibration.
CAPTRON products follow the recommendations of industry associations and clearly comply with the standards and guidelines of the traffic industry.
Long-lasting automated door switches: made in Germany
The longevity of the SENSORswitches means you enjoy huge savings in the long run. The exceptional reliability of the door opening buttons lasts for over 100 million switching cycles. Moreover, there are no additional costs for regular maintenance.
Flexible and easy mounting
The door opening buttons are suitable for installation on walls, doors or glass panes, and are mountable for standard 68mm cavity wall boxes.
Product features
Our capacitive door opening buttons benefit from the following features:
Touch control
Large surface area up to 63mm diameter
Improved reliability and maximal performance
Long service life
Coloured ring with relief and Braille
Extremely durable and resistant
Visible feedback with 16 bright LEDs
Audible signal and tactile feedback with vibration
100% water-proof and oil-proof: IP 69K protection
Individual symbols or icons available
Unique customisation services
CAPTRON is dedicated to providing individual solutions for specific customer applications. With our highly flexible development processes, we offer you the opportunity to go beyond our standard product range and design a customised sensor for your unique requirements.