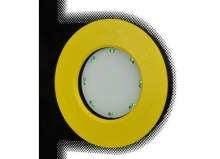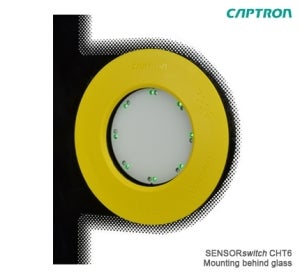 Capacitive CHT6 and CHT61 switch for one-sided operation through single or double glass
The functionality of the capacitive switches of the CHT6 and CHT61 series is particularly targeted towards single actuation through single or double glass. The back of the switch is completely secured by its housing, which protects it against vandalism. The user can either use a hand or a finger to touch the touch-pad (glass pane) in order to activate the door opening. The capacitive sensor system requires neither pressure, nor effort and provides the user with simple and precise operation. This technology is perfectly suitable for children, older people or persons affected by health problems. Tactile braille and relief arrows on the coloured outbuilding of the switch are able to assist people who are visually impaired.
Ideal as a door opening switch
SENSORswitch by CAPTRON is equipped with 16 colourful and luminous LEDs (green, red or blue), which make it easy to recognise a door opening. Both switches can be easily attached to a glass plate using adhesive foil without the requirement of additional boreholes or holes to fasten it. The various applications of the CHT6 and CHT61 switches allow them to be used in a number of areas, particularly in traffic and building technology as door openings or as stop-request buttons.
SENSORswitches are characterised by their durability and extremely high degree of reliability with more than 100 million cycles, a wide variety of designs and a comprehensive selection of colours and symbols.