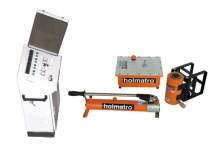 Holmatro Ship Launching Sets
Launching a ship sideways into the water safely in an extremely controlled manner is possible with the aid of Holmatro's custom-made Ship Launching Sets. Each set consists of a cylinder with an electrical quick relief valve, a hand-pump with a pressure gauge, a five metre hose and a five litre tank with a large diameter connection hose. 4, 6, 8 or more of these sets, combined with an electrical control unit are required for launching, depending on the conditions and the dimensions of the ship.
Before a ship is launched all support materials such as ship wedges are removed. The ship then only rests on a number of 'sleds' that are fixed between two support points with the aid of pumped-out cylinders. The cylinders are operated from the quay by means of hand-pumps and an electrical control unit. Each cylinder plunger is pumped-out just until the carrying frame touches the bottom of the ship.
All cylinders are connected to a dump tank by means of a large diameter hose. The system is kept under pressure by keeping the quick relief valves (dump valves) on the cylinders closed. The launch is started by simultaneously opening all of the quick relief valves from a safe distance. The hydraulic oil then flows from the cylinders into the tanks, at which point the ship begins to move. While the cylinder plungers return due to the weight, and overturn within a few seconds, the ship gradually slides safely into the water.
Features
Separate oil tank and large diameter connection hose, which provide a quick and simultaneous relief
Electrical control unit to provide safe and accurate control
Please click here to see the Ship Launching Set product video.