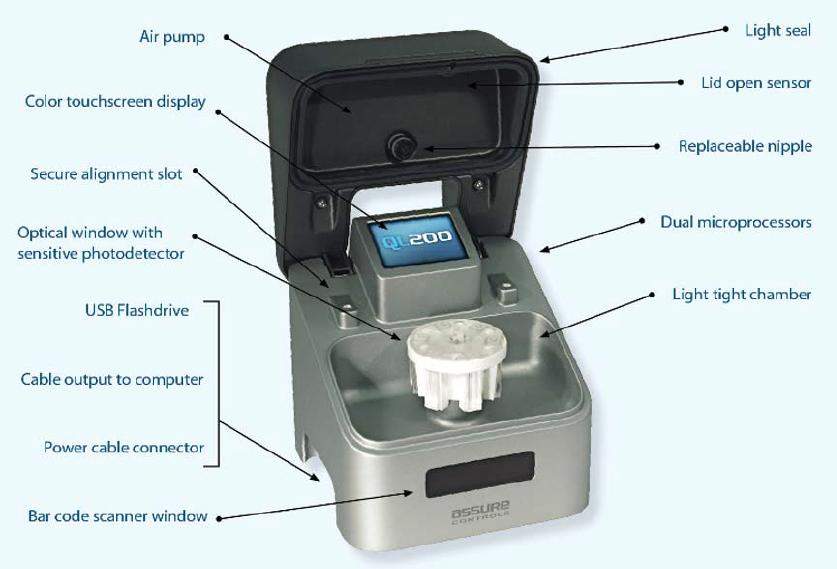 The QwikLite® 200 Biosensor System is used for testing contaminants and performing toxicity assessments. Employing the latest in optics, electronics and software computing, the QwikLite® 200 Biosensor System combines several components into a small laboratory instrument. The optical, mechanical and electronic measurement system weighs approximately 10lbs.
QwikLite® 200 Biosensor System uses patented and proven technology to measure light output from bioluminescent plankton. The changes in light output from these marine organisms provide an excellent indication of toxic effects due to chemical compounds, effluents, and contaminated sediments.
In nature, bioluminescent plankton emit a visible blue-green light when they experience a shear force in the ocean. This force is usually a change in direction or pressure of the surrounding water. The phenomenon is accurately induced in the QwikLite® 200 Biosensor System.
The total amount of light produced is captured, measured and recorded by the optics and electronics of the instrument. The measurements are stored in a data file that can be immediately viewed, reviewed as a historical file, or downloaded to a PC or storage device via USB connector.
The QwikLite® 200 Biosensor System uses optics and electronics for measuring predictable changes in the physiology of small marine plankton. A microprocessor based software system containing the user interface, operation and control of the instrument, communications, and data are stored on board and retrievable via USB connection to computer. Disposable, single use test kits contain pre-packaged research organisms.