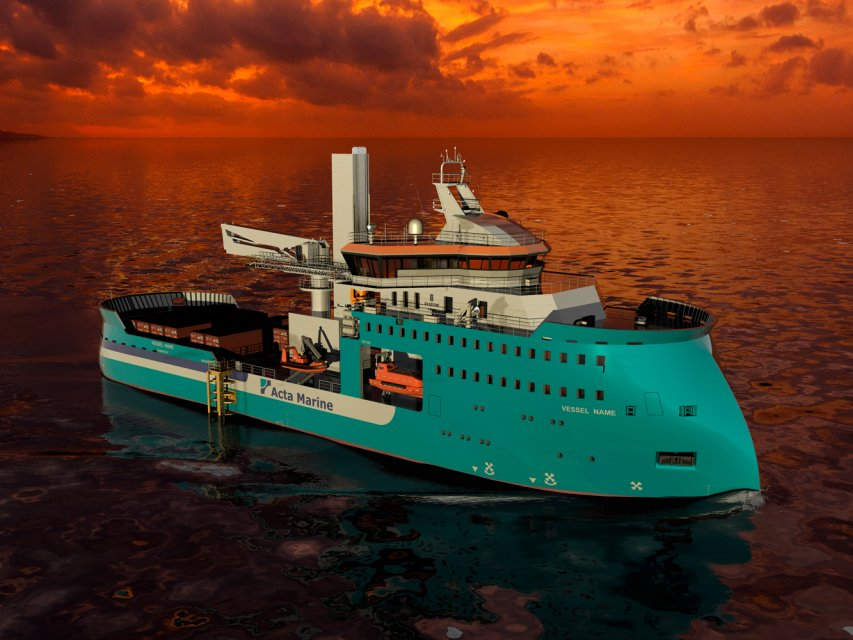 Acta Auriga is a new DP2 walk-to-work construction support vessel ordered by Acta Marine Offshore Services. Image courtesy of Ulstein Group ASA.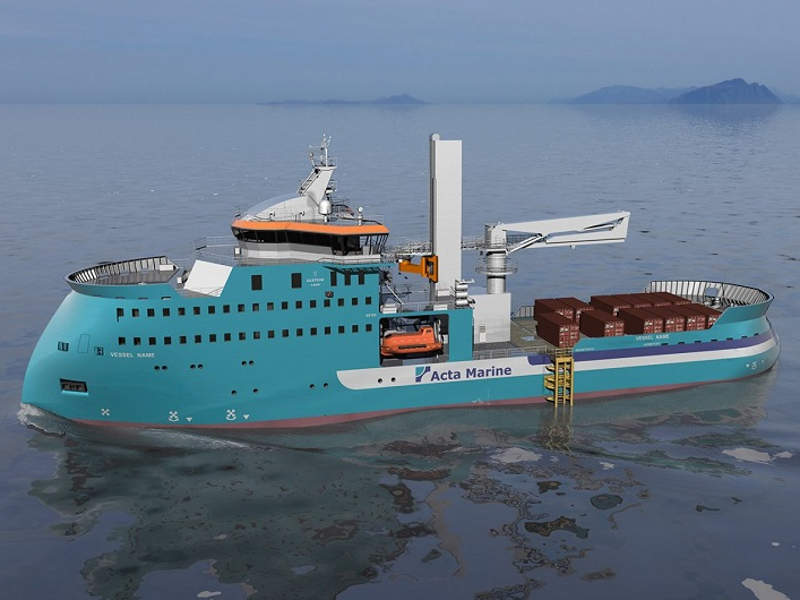 The construction support vessel incorporates the Ulstein SX195 design. Image courtesy of Ulstein Group ASA.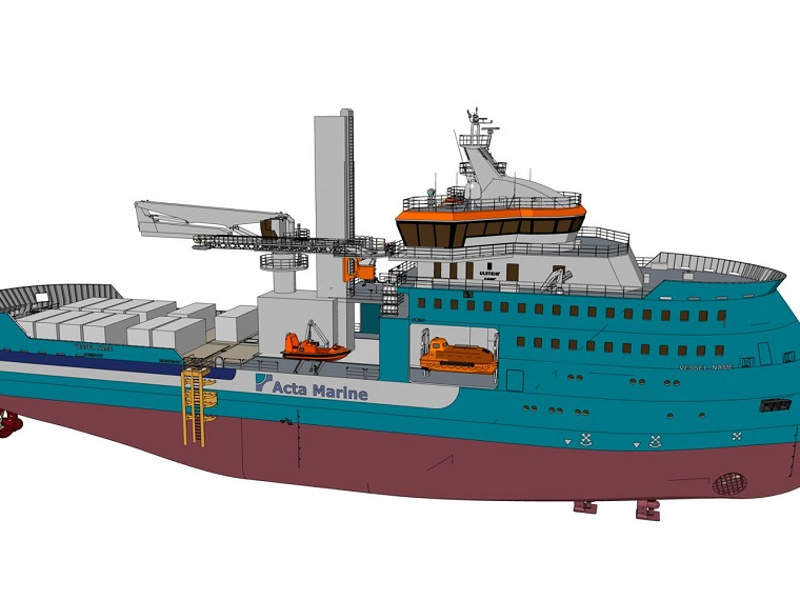 Acta Auriga was delivered by Ulstein Verft in March 2018. Image courtesy of Ulstein Group ASA.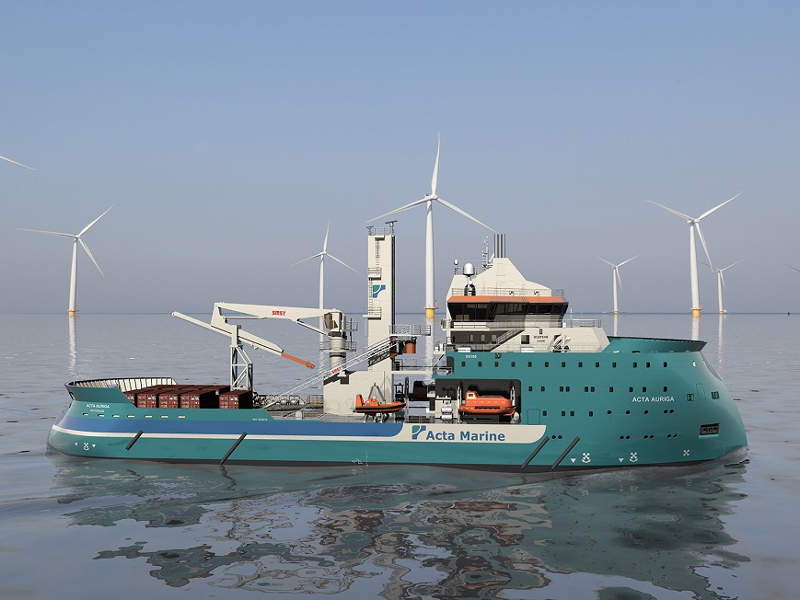 Acta Auriga construction support vessel has a maximum speed of 13k. Image courtesy of Ulstein Group ASA.
Acta Auriga is a DP2 walk-to-work construction support vessel (CSV) developed for Acta Marine Offshore Services. It is designed to support the construction, commissioning and maintenance of offshore wind farms.
Acta Marine placed a contract with Ulstein Verft for the construction of a DP2 construction support vessel in January 2017.
Ulstein Verft and CRIST jointly began the construction of the vessel's hull form in Poland in February 2017 and it was christened in September 2017. The finished hull was towed to the Ulstein Verft's facility in Ulsteinvik, Norway, in November 2017 for final outfitting and installation of mission equipment.
Acta Auriga completed its sea trials in March 2018 and was delivered in the same month.
The vessel was ordered by Ocean Breeze Energy (OBE) on a two-year charter in January 2018. It was deployed at OBE's Bard Offshore 1 wind farm in May 2018 to provide logistical support for maintenance activities.
Acta Auriga CSV design details
Based on the new SX195 design developed by Ulstein Design & Solutions, the CSV incorporates an optimised hull form integrating the Ulstein X-BOW and X-STERN hull line designs.
"Acta Auriga was delivered in the first quarter of 2018."
X-BOW features a tapered forward hull with a diverse volume distribution and sectional angles to create a wave-piercing effect at small wave heights. The design also minimises pitching and bow impact loads in higher seas.
The sharp stern shape of X-STERN design allows the positioning of the stern towards the weather instead of the bow. The hull shape enables astern operations and increase comfort for the crew, by reducing slamming, noise and vibrations, enhancing the flexibility and operability during operations at offshore wind farms.
The ship measures 93.4m long, 18m wide and 7.6m deep, and has a deadweight of 2,600t at a design draught of 5.6m.
Deck equipment and capacities
Acta Auriga features an SMST dynamic motion compensated gangway system installed on a height-adjustable integrated tower with an integrated elevator for lifting personnel and cargo.
The deck is installed with a three-dimensional motion-compensated knuckle boom crane with a lifting capacity of 20t without compensation or 6t with compensation. Either side of the hull can be fitted with a detachable boat landing system for crew transfer vessel (CTV) landing. It also features a refuelling installation for CTV.
The vessel can carry a fast rescue craft and offers sufficient deck space for a daughter craft. It is also equipped with a smart container sliding and sea fastening system.
DP2 and reference systems include four operator stations, three wind sensors, three motion reference units and three position reference systems.
The ship offers an internal cargo area of 500m², while its weather deck offers an external space of 500m². The large deck spaces support the carriage of 24TEUs. The vessel also ensures safe walk-to-work transfer of personnel and cargo in significant wave-heights of up to 3m.
Tank capacities of the vessel are 800m³ of fuel oil, 180m³ of CTV fuel, 40m³ of lube oil, 840m³ of freshwater and 1,970m³ of ballast water.
Accommodation
The ship has the capacity to accommodate up to 120 personnel in 40 double cabins and 40 single cabins. The cabins are provided with large beds, sanitary facilities and a fully integrated entertainment system.
Acta Auriga also features a buffet-style restaurant, multi-functional public areas, five office rooms, two charterer's workshops, a hospital, two changing rooms, modern sauna and fitness facilities, as well as multiple lounge suites with a library, televisions and game facilities. Occupants are also offered Wi-Fi and video-on-demand services.
Acta Auriga CSV propulsion
The power-plant integrates two 1,700ekW and two 940ekW main diesel generators, and a 200ekW emergency generator. The vessel is equipped with two 1,500kW stern thrusters, a 1,040kW tunnel thruster and two 880kW swing-up thrusters.
The propulsion system ensures a maximum speed of 13k and an endurance of approximately 30 days.