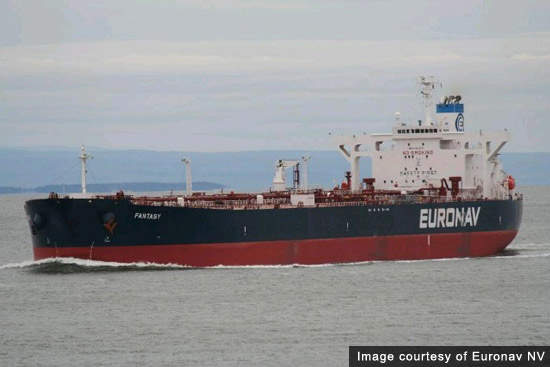 The Fantasy in Euronav livery.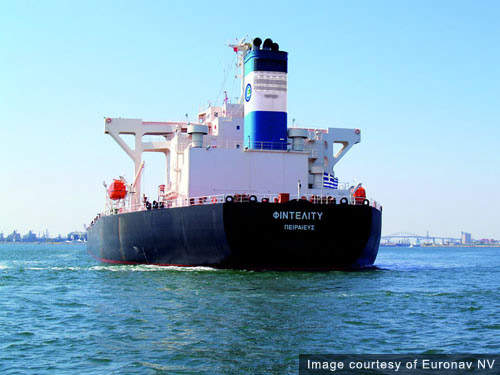 The Fidelity flying the Greek flag.
The Fidelity and Fantasy double-hull Aframax (Average Freight Rate Assessment) tankers were launched in 2002 and for the last two years formed an active part of the Euronav NV fleet of crude oil tankers. In May 2008, the sister ships were sold to a third party for $137m.
The tankers have largely been used in the basins of the Black Sea, the North Sea, the Caribbean Sea, the China Sea and the Mediterranean (specifically where harbours and canals of exporters are too small to accommodate supertankers).
The two vessels sail under the Greek flag with a designated notation 1A1 Tanker for Oil ESP E0 LCS-SI NAUTICUS. The ships were constructed and fitted out at the Tsuneishi Shipbuilding Co Ltd yard in Tadotsu, Japan, between March 2001 and April 2002. The keels were laid in January 2002. Both vessels have an international gross tonnage of 57,683t.
TECHNICAL
The overall length of each vessel is 240.5m, the length between the perpendiculars is 230m, the waterline length for the loading line is 231.4m, the beam is 42m and the draft is 14.85m. The propulsion system uses a 6S60MC diesel supplied by MAN B&W Diesel A/S along with a mono-block propeller and a plain bearing shaft. The steering gear is FM21-140-T050.
The main generator diesel engines are three W4L20 (two aft and one forward), which were supplied by Wärtsilä Finland Oy. The emergency generator diesel engine is a D 2866 TE supplied by MAN Nutzfahrzeuge AG (previously Burmeister & Wain before MAN acquired them). The auxiliary boilers are CPH-20 and were supplied by Aalborg Industries K.K. Both Fantasy and Fidelity have identical technical specifications.