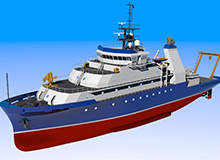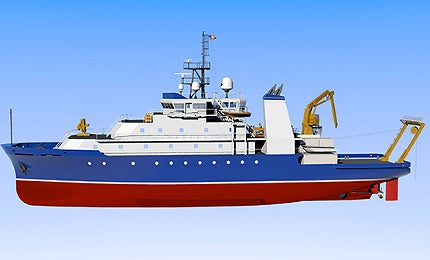 Armstrong-Class auxiliary general oceanographic research (AGOR) vessels were built by Dakota Creek Industries (DCI) for the US Navy's Office of Naval Research (ONR). The programme included the construction of two ships, namely R/V Neil Armstrong (AGOR-27) and R/V Sally Ride (AGOR-28), at an estimated cost of $145m.
"In May 2010, the Massachusetts-based Woods Hole Oceanographic Institution (WHOI) was chosen to operate AGOR-27."
Construction works on AGOR-27 and AGOR-28 were launched in August 2012 with a keel-laying and dedication ceremony held at Anacortes city in Skagit County, Washington. In September 2012, the first ship was named RV Neil Armstrong in honour of Neil Alden Armstrong, the famous American astronaut and the first person to walk on the Moon.
R/V Neil Armstrong was christened in March 2014 and delivered in September 2015. R/V Sally Ride was christened in August 2014 and delivered in June 2016.
Operators of AGOR-27 and AGOR-28
In May 2010, the Massachusetts-based Woods Hole Oceanographic Institution (WHOI) was chosen to operate AGOR-27. The world's largest private, non-profit oceanographic research institution, WHOI was selected after a competitive-merit-based process, which was conducted by the ONR.
Part of the University of California, San Diego, Scripps Institution of Oceanography (SIO) was selected as the operator of AGOR-28. The new vessels are rented to the selected operators under a renewable charter party contract.
Contracts awarded for the US research vessels
In October 2011, the ONR signed a contract with DCI to design and build the AGOR-27. DCI delivered initial training, support and training materials as part of the contract.
"The programme included construction of two ships, AGOR-27 and AGOR-28, built at an estimated cost of $145m."
The $74.1m deal included an option for the construction of a similar second vessel. ONR exercised this option for the second vessel, AGOR-28, in February 2012 increasing the contract value by $71m.
American naval architect and marine engineering service provider Guido Perla & Associates (GPA) was commissioned to provide the basic design, regulatory design and detail / production design for the two vessels.
Siemens won a $10m contract in May 2012 to supply the diesel-electric propulsion solution and automation system.
The US Naval Sea Systems Command provided the design and construction management services for the project.
Features of the Armstrong-Class ships
The twin AGOR vessels are 72.54m-long and have a waterline length of 70.10m. Maximum breadth, depth to main deck and draft of the ships are 15.24m, 6.71m and 4.57m respectively. Full load displacement is 3,204t, while the lightship weight is 2,058t. The aft deck area and stern deck area measure 174m² and 237.55m².
"Siemens won a $10m contract in 2012 to supply the diesel electric propulsion solution and automation system."
The single-hulled ships are designed to support the advanced oceanographic research in deep and shallow water. Each vessel is operated by a crew of 20 people and can accommodate up to 24 scientists.
The ships are designed for up to 40 days of stay at sea with distance spanning up to 10,000 nautical miles, and are able to defy rough sea and wind conditions. Moreover, they remain operational during 75% of the winter months in the north-west and north Atlantic regions.
The vessels are designed to consume less fuel while also reducing harmful gas emissions. An important feature of the sister ships is the multi-drive, low-voltage system with fail-secure technology. It improves reliability, reduce maintenance costs and increase each vessel's efficiency.
Technologically advanced features of the vessels include underwater acoustic positioning systems, a unique hull form to prevent bubbles from entering into the acoustic sensor zone, and a central cooling system to provide HVAC.
Laboratory areas and scientific equipment
The main laboratory area onboard the AGOR vessels is designed to measure 95.04m², while the wet laboratory area is 36.98m². The ships are also outfitted with a 28.89m² computer laboratories. The lab area staging bay measures 28.15m². The ships are also designed to have a science storage capacity of 142.05m³ and science payload capacity of 250t.
Each vessel is equipped with acoustic equipment to allow scientists to map the deepest layer of the oceans and face the challenges posed by blue-water research.
The vessels are fitted with highly advanced equipment, including a deep water multi-beam survey system, a multi-beam survey system for shallow water, sub-bottom profiling system to map various marine sediment layers, an acoustic doppler current profiler (ADCP) to measure water current velocities, and an acoustic navigation and tracking system (ANTS).
Diesel electric propulsion system onboard
The Armstrong-Class research vessels are powered by a diesel electric propulsion system. Each vessel is fitted with four main diesel generators, rated at 1,044kW each. In addition, there is a 220kW emergency generator.
Propulsion is provided by two controllable pitch propellers, each driven by a propulsion motor. For manoeuvring, each ship is fitted with a 686kW bow thruster and a 620kW stern thruster.
---
Related content
---
The Sikuliaq is a research vessel being built by Fincantieri for the US's National Science Foundation (NSF).
HOS Centerline is claimed to be the largest and most flexible DP-2 (dynamic positioning) offshore supply vessel (OSV) in the world.
Royal Research Ship (RRS) Discovery is a new, state-of-the-art, multirole oceanographic research vessel being built for the UK's main environmental research organisation, National Environment Research Council (NERC).
---