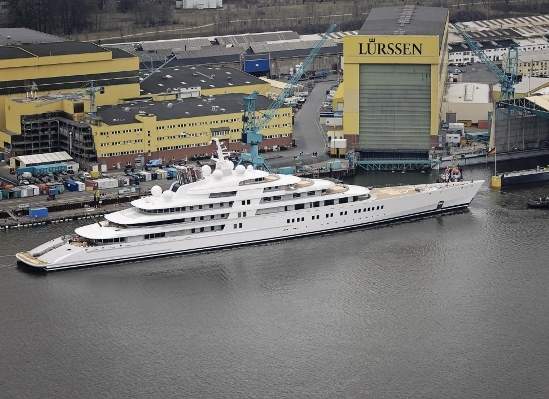 Azzam Superyacht, delivered in October 2013, replaced the Eclipse Superyacht as the largest superyacht in the world.
Azzam was launched at Lurssen Shipyard in Bremen, Germany, in April 2013. Upon delivery to its owner in October 2013, the yacht created a significant landmark in yacht building, involving less than three years of construction and one year of engineering activities.
"The cost of construction of the yacht was approximately $600m."
The owner of the yacht is Sheikh Khalifa bin Zayed Al Nahyan, the President of the United Arab Emirates and Ruler of Abu Dhabi. The yacht's construction cost more than $600m. The name of the yacht, Azzam, means determination in Arabic.
The exterior design of the yacht was provided by Nauta Design, while interior design was by Christophe Leoni. Fr. Lurssen Werft was responsible for the engineering and construction of the Azzam superyacht. Technical engineering activities were carried out under the leadership of Mubarak Saad al Ahbabi.
Development of the world's largest superyacht
The yacht was transferred from her original dock at Lurssen Shipyard, measuring 170m, to a larger dock, measuring 220m, in May 2012. Steel cutting for the yacht was held in late 2009.
The yacht successfully completed sea trials in June 2013, prior to its commissioning.
Dimensions of the superyacht
The Azzam measures 180m long, and has a beam of 20.8m and a maximum draft of 4.3m. The hull of the world's larget yacht is made of steel.
The yacht is larger than the Eclipse by 17.2m. The Eclipse, which was commissioned in 2010, is owned by billionaire Roman Abramovich.
Azzam superyacht has a gross tonnage capacity of approximately 14,000t and features a fuel tank with a capacity of one million litres.
Its main salon measures 29m in length, with its beam measuring 18m. The salon on-board the yacht has an open space featuring no support pillars. The yacht features approximately 50 suites with no large open spaces on the deck, with the interior design of the vessel incorporating the Empire Style.
Azzam superyacht layout and facilities
The interior design of the yacht is highly confidential, but initial photo releases suggest that it features six decks. The rear view of the vessel also suggests that it is powered by jets.
"The Azzam measures 180m long and has a beam of 20.80m."
The yacht is capable of providing accommodation facilities for at least 50 professional crew members. Similar to other yachts constructed by Lurssen, Azzam is environment-friendly with decreased carbon dioxide, noise and soot emissions, as well as enhanced fuel-efficiency.
Azzam is also believed to include facilities to use waste heat from the engine to operate the yacht's desalination system for drinking water. Lurssen has been lauded for being the first yacht-builder to implement this system.
Engine details
The yacht features two gas turbines and two diesel engines with a rated power output of 23,500hp. The yacht can sail at a maximum speed of 30k.