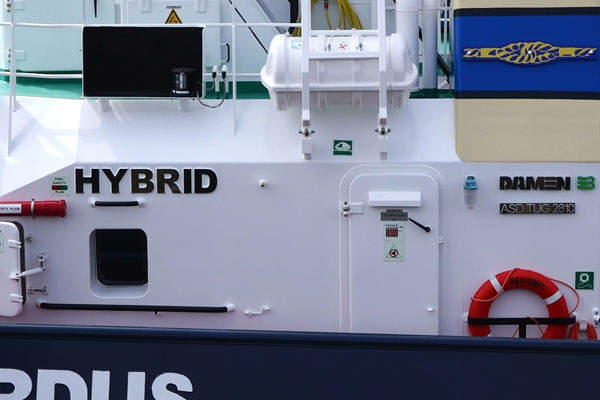 The azimuthal stern drive (ASD) tugboat is the first hybrid tug built by Damen. Image courtesy of kees torn.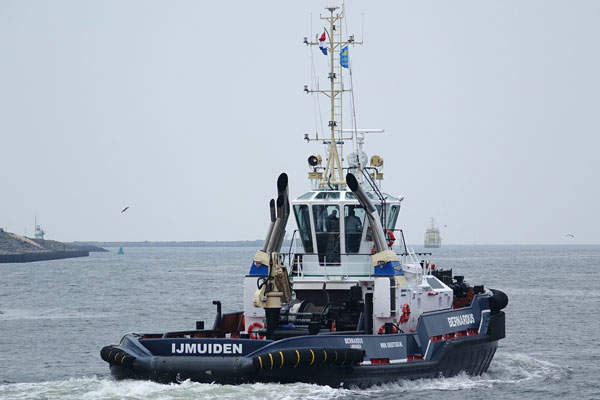 The new ASD 2810 hybrid tug runs on only diesel, diesel-electric and battery power. Image courtesy of kees torn.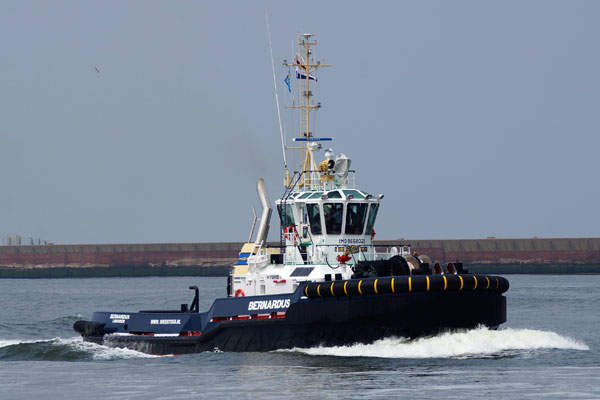 The order for the tugboat was placed in October 2012. Image courtesy of kees torn.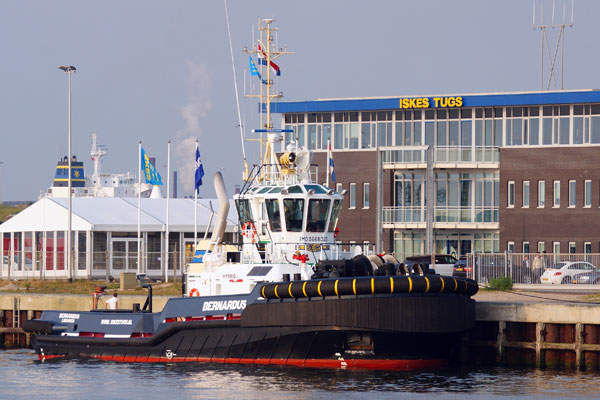 The vessel was delivered to Iskes Towage & Salvage in May 2014. Image courtesy of kees torn.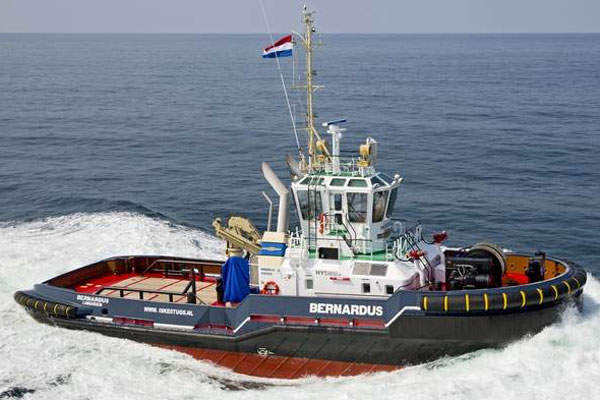 The optional battery pack with full charge allows the vessel to sail for one hour.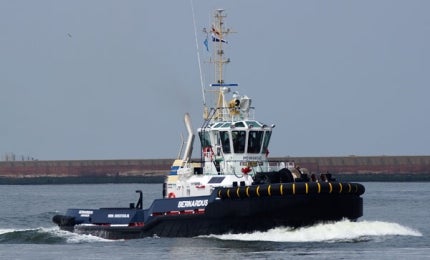 Bernardus is the first azimuthal stern drive (ASD) tugboat built by Damen Shipyards. The new vessel was ordered by the Netherlands-based Iskes Towage & Salvage in October 2012 and was delivered in May 2014.
The state-of-the-art hybrid tug combines direct-diesel and diesel-electric propulsion and battery power.
Design and tank capacities
Bernardus has an overall length of 28.67m, moulded breadth of 10.43m, moulded depth of 4.38m, draught of 5.15m and displacement of approximately 604t. It is designed for a bollard pull of 60.2t and 55.3t for ahead and astern respectively.
The vessel carries the class notation 100 A1 Escort Tug LMC UMS IWS from Lloyd's Register EMEA Marine.
Bernardus is fitted with tanks that are capable of carrying 72.3m³ of fuel, 14.9m³ of fresh water, 6.5m³ of foam, 9m³ of lubricating oil, 3.1m³ of dirty oil, 2.2m³ of sewage, 3.1m³ of sludge, 5.1m³ of bilge water and 6.4m³ of urea.
Navigation and communication equipment
Navigation equipment onboard the vessel includes Furuno NX-700 dual-channel navigational telex (NAVTEX) receiver and Furuno FA-150 universal AIS (automatic identification system).
---
---
John Jacob is a 205ft-long monohull crew supply vessel.
---
Other onboard navigation equipment includes two Furuno FAR-2117 radars with a 19in screen, a magnetic Kotter compass system and a Furuno SC-50 satellite navigator. The tug is outfitted with two Pesch 1000W searchlights, Furuno FE-700 echo sounder and Simrad AP-50 auto pilot. A Furuno GP-150 global positioning system (GPS) is also fitted.
Communication equipment includes Jotron Tron 40S emergency position-indicating radio beacon (EPIRB), Jotron Tron Sart search and rescue transponder (SART), 150W Furuno FS1575 radiotelephone for general and distress communications, two very-high-frequency (VHF) radio telephones and two Jotron TRON TR-20 hand-held VHF global maritime distress and safety systems (GMDSS).
Accommodation onboard the vessel
The hybrid tug provides accommodation for seven people, with two individual cabins for the captain and chief engineer, two double crew cabins and one single crew cabin. The cabins are insulated and finished with durable modern linings to limit noise and vibration levels.
Located at the fore of the vessel, the wheelhouse features acoustical ceiling, floating floors and air-conditioning. Other facilities include a galley, mess/dayroom with lockers, settees, radio and television, dry store and sanitary facilities.
Towing equipment onboard Bernardus
Towing equipment includes two anchors with a capacity of 360kg, a 5t electrically driven capstan at 15m/min and towing pins with a safe working load (SWL) of 86t.
The vessel features an electrically driven two-speed towing and anchor winch with double drum and warping head. The winch has a pull force of 35t/min at an outreach of 9.1m and slack rope speed of approximately 28m/min. The towing winch on the aft deck is outfitted with spooling devices. It has a pull of 35t/min at 9m outreach and 33t/min at 9.5m outreach. The slack rope's maximum speed is 27m/min and the brake holding load for both winches is 150t.
Fire-fighting facilities and equipment
Fire-fighting facilities include fire fighting systems (FFS) Jason 250×350 OGF each with a capacity to spray 1,200m³/h of water and four FiFi remote-controlled monitors, two with capacity to spray 600m³/h and two with capacity to spray 300m³/h.
"The tug also includes an electro-hydraulic auxiliary pump and powerful flood-lights fitted at the fore and aft decks."
The tug is fitted with one Caterpillar C4.4 generator set with a capacity of 107kVA, 230V/400V and 50Hz. It also includes two Sterling AKHA 5101 bilge pumps, each with a capacity to remove 20m³/h of bilge, as well as Sterling AKHA 4101 and AOHA 3101 fuel pumps.
It also features a closed cooling system comprising box cooling with an anti-growth system and a pressure set Sterling HBK 111 / AOHA 1202 spraying freshwater.
The tug also includes an electro-hydraulic auxiliary pump and powerful flood-lights fitted at the fore and aft decks.
Hybrid diesel-electric propulsion system
Bernardus is equipped with a hybrid diesel-electric propulsion system comprising two MTU 16V4000M63R engines, which provide a total power output of 3,680bkW at 1,600rpm. It is also equipped with a MTU 12V 2000 M41B generator set with a power output of 800kVA.
The vessel's main engines and diesel generators are equipped with an exhaust gas cleaning system that combines diesel oxidation catalyst (DOC), diesel particulate filter (DPF) and selective catalytic reduction (SCR) system. The propulsion system also includes 2x120kWh battery pack.
Bernardus is further equipped with two 230kW ABB M3LP450 main electric engines, which keep the vessel sailing for one hour. The propulsion system also includes two Rolls Royce US 205 azimuth thrusters with propeller diameter of 2,400mm.
The hybrid propulsion system not only provides economic benefits but is also environmentally friendly. The diesel electric propulsion system saves up to 30% fuel and reduces emissions by approximately 40%.
When in free-sailing mode, the vessel runs on an auxiliary generator set, which is used for station keeping, manoeuvring and free sailing at a maximum speed of 8.5k. In standby mode in combination with the optional battery pack, the vessel's speed is approximately 4k and in towing mode while performing push and pull operations the vessel can reach a maximum speed of 13.4k.