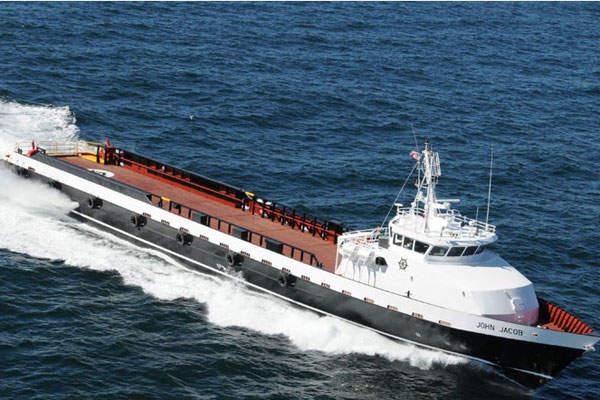 The 205ft-long crew supply vessel John Jacob was delivered in April 2014. Image courtesy of Incat Crowther.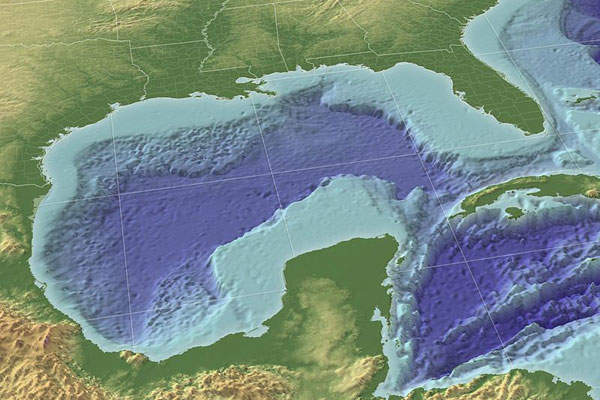 John Jacob was built to meet the growing need for crew supply vessels in the Gulf of Mexico.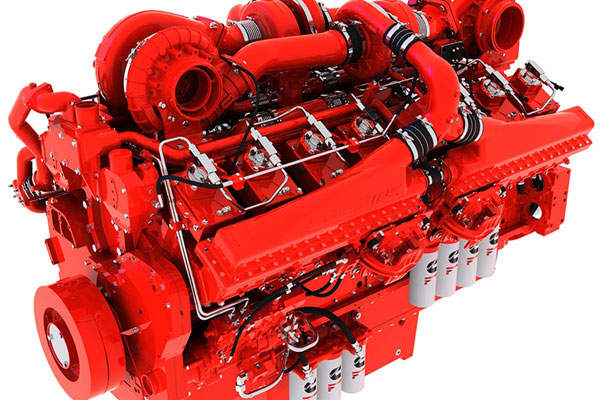 The vessel is powered by four Cummins QSK 50 engines.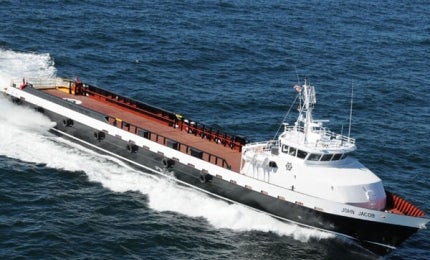 John Jacob is a 205ft-long monohull crew supply vessel constructed by Incat Crowther at Halimar Shipyard in Morgan City, Louisiana, US, for Barry Graham Oil Service (BGOS).
The crew supply vessel was built as per US Coast Guard (USCG) regulations, carries the USCG Subchapter T flag and is ABS-classed for DP-2 service. It was delivered to its owner in April 2014.
John Jacob design and specifications
"John Jacob was built from marine grade aluminium and designed by Incat Crowther."
John Jacob was built from marine grade aluminium and designed by Incat Crowther. The overall length is 62.6m, moulded beam is 9.8m, waterline length is 55.2m and depth to main deck is 4.6m.
The vessel has a maximum hull draft of 2.3m and deck area of approximately 450m², giving a load carrying capacity of up to 450t.
Features of the crew supply vessel
John Jacob has two fuel tanks with the capacity to hold 57,900l of fuel and 66,200l of cargo fuel. Additional tanks are fitted to hold fresh water, grey water and sewage. The vessel has the capacity to hold 4,920l of fresh water and 2,340l of grey water. It is further fitted with a dual-purpose tanker with capacity to carry up to 42,588 gallons of rig or ballast water.
Onboard accommodation and safety features
The vessel offers accommodation to 72 passengers and has seating in the main deck. Other facilities include passenger showers, toilets and stores. The passengers also have access to the upper deck wheelhouse below the deck accommodations. The wheelhouse is fitted with both forward and aft-facing control stations and stylishly designed control consoles.
---
---
TESS64 (Tsuneishi Economical Standard Ship64) AEROLINE was unveiled in May 2014.
---
A dedicated dynamic positioning (DP) room is present onboard. John Jacob can accommodate a total of 12 crew members in twin cabins. Crew facilities include a galley, mess area and a large pantry.
The ship also has a deck locker, which is accessible from the cargo deck. It provides storage facilities for the deck cargo, securing equipment and other safety gear onboard.
Safety equipment aboard the vessel includes the FiFi-1 fire fighting system, which is used to control off-ship fires. The system comprises two FFS engine-driven pumps, each with capacity to discharge water at approximately 5,300 gallons per minute. It also has integral clutch assemblies and remote-controlled monitors.
Engine details
John Jacob is powered by four Cummins QSK 50 engines, which generate power of 1,342kW at 1,900rpm. It also has three Cummins 6CTA generator sets, which generate electric power of 185ekW.
The engines drive the Twin Disc MGX 6848 gearboxes to four Hamilton HM811 water jets through cardan shaft assemblies supplied from Driveline Service of Portland.
Three Thrustmaster 30TT150AL bow thrusters are also fitted for easy manoeuvring. The vessel sails at a maximum speed of approximately 32k.