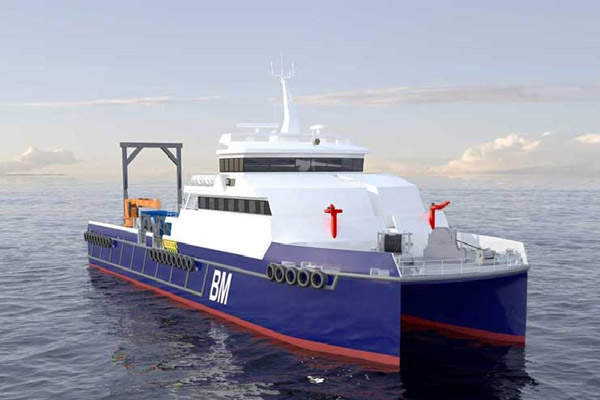 Bhagwan Marine built a new dive support vessel (DSV) Bhagwan Dryden. Image: courtesy of Incat Crowther.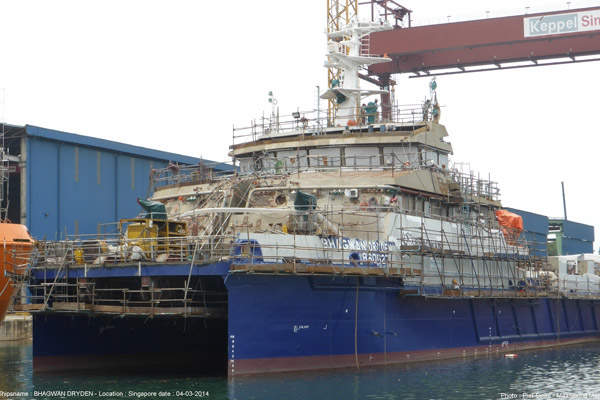 Bhagwan Dryden was built by Keppel Singmarine. Image: courtesy of Maasmond Maritime.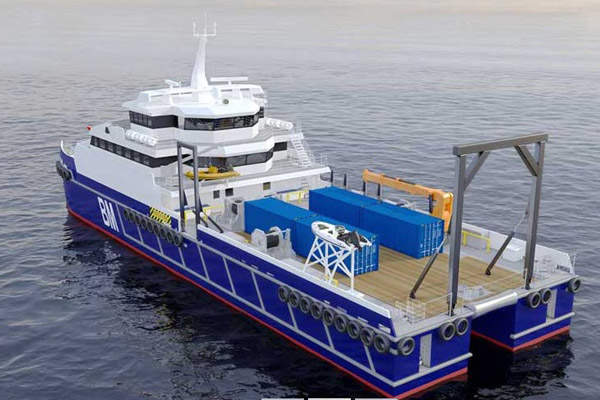 The dive support vessel is outfitted to operate in shallow waters. Image: courtesy of Incat Crowther.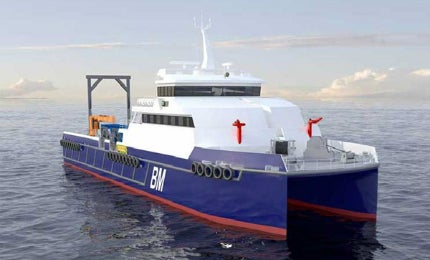 Bhagwan Dryden is a newly built air dive support vessel owned by Australia-based Bhagwan Marine.
Built by Keppel Singmarine, the vessel arrived in Dampier, Western Australia, in September 2014 and completed her first assignment of a mooring system inspection by remotely operated vehicle (ROV). It will primarily operate on the North West Shelf.
The dive support vessel was constructed at Keppel's shipyard in Singapore. Dive, inspection and survey equipment were installed by Neptune Marine Services, an Australian company, in association with Bhagwan.
The vessel can sail in shallow waters performing dive support, geophysical and geotechnical surveys, cargo transportation, hyperbaric rescue and safety operations.
Bhagwan Dryden was chartered to Apache Energy under a five year agreement with an option for extension by two years.
Design, features and onboard tank capacities of the dive support vessel
---
---
The new crew transfer vessel will serve the oil and gas industry at Barrow Island in north-western Australia, along with its sister vessel Leicon CTV10.
---
The hybrid twin-hull (catamaran) is designed by Naval architects Incat Crowther and is built of steel. Overall, the vessel has an length of 56.8m, beam of 16m, depth of 6.25m and design draft of 3.3m.
Gross tonnage capacity of the vessel is 1,500t and deadweight is 250dwt. The vessel offers a clear deck space of 260m² and a maximum loading capacity of 10t/m².
The DSV was assigned the ABS class notation of +A1, E Offshore Support Vessel, SPS, FFV10, +AMS, +ACCU, GP, +DPS 2, Enviro, and RRDA.
The vessel has a capacity to hold 125m³ of fuel and 75m³ of potable water. Onboard tanks can store 1,500l of sullage and 2,000l of lube oil, 2,000l of dirty oil and 2,000l of bilge water.
It is further equipped with two fuel cargo and three freshwater discharge pumps, each discharging 10m³/hr at two bar.
Accommodation facilities
Bhagwan Dryden offers accommodation to 40 personnel including 28 passengers and 12 crew members. It has eight two-bed cabins and two single-bed cabins, with an ensuite for crew members and a large client office in the mid-deck.
Facilities in the main deck include a large galley, a dining space for 30, and a cinema. Additional facilities include two showers, two toilets, a changing room, laundry, workshops and a ROV control office.
The ship also features five two-bed cabins in the port hull with an ensuite fitted with satellite TV, DVD and internet facilities. It also has a laundry and a fully equipped gymnasium. The starboard features five two-bed cabins with an ensuite and laundry.
Winches, deck cranes and subsea diving equipment
"The vessel can sail in shallow waters performing dive support, geophysical and geotechnical surveys, cargo transportation, hyperbaric rescue and safety operations."
The dive support vessel is equipped with deck crane AKC 245HE4 from HS Marine, providing a lifting capacity of 35.3m/t at 4.5m outreach and 8.8m/t at 16.6m outreach.
It is provided with an electrically driven double drum waterfall winch with 20t capacity. The upper drum has the capacity to tow 100m of 30mm wire, where as the lower drum has the capacity to tow 1,200m of 32mm wire.
Other handling equipment aboard the vessel include an electric EMS 4-point mooring system, four 2,000kg delta flipper anchors, a 8t electric winch with a pulling capacity of 100m and 20m wire capacity.
Vessel equipment also includes a 22.5t man riding rescue winch system capable of recovering hyperbaric life boat.
Bhagwan Dryden is fitted with a sub atlantic TMS comanche work class remote operated vehicle (WROV) and c/w garage type tether management system to carry out subsea diving operations at a water depth of 2,000m.
It is also equipped with two 72in twin-lock deck decompression chambers from Hytech used in diving.
Ancillary facilities onboard the new-build dive support vessel
The vessel comprises of a sullage tank with capacity of 30m³, an oil water separator from Boss, and a Detcon gas detection monitoring system. A Hamann sewage treatment plant, which meets Marpol regulations is also provided onboard.
Dynamic positioning, navigation and communication systems
The dive support vessel is fitted with Kongsberg K-POS dynamic positioning system (DPS) 2, Kongsberg RADius relative positioning system along with Veripos LD5-GG2 differential global navigation satellite system (DGNSS).
It is also fitted with three Kongsberg motion reference units (MRU) and three gill wind sensor units.
Navigation equipment onboard the Catamaran DSV comprises a SG Brown survey gyro compass, SAAB R5 SUPREME automatic identification system (AIS) which is designed for safety of life at sea (SOLAS) vessels and Furuno GPS GP-37 navigators.
Equipment also includes McMurdo E5 search and rescue transponder (SART) and an emergency position indicating radio beacon (EPIRB), the Kelvin Hughes MantaDigital voyage data recorder (VDR) and Simrad AP80 AutoPilot.
Survey and inspection equipment onboard include a retractable Sonardyne ranger 2 pro ultra-short baseline acoustic positioning system, R2Sonic/Reson Hull-mounted flange multi-beam echo sounder (MBES), and two iXBlue octans survey attitude and heading reference systems (AHRS).
The vessel's communication equipment comprises global maritime distress and safety system (GMDSS), Sailor 6222 very high frequency (VHF) digital selective calling (DSC) unit, as well as MOXA fibre optic video and data sharing network among survey, diving and ROV.
It is also fitted with a Skipper GDS 102 echo sounder, Navtex JMC NT-1800 receiver, Inmarsat C equipment, Sailor 6110 SAT-C, V-SAT super-track Z10 by KNS, 18 PTZ cameras for the CCTV system, and search lights CL25-11 CL5-25611 from colour lights.
A well-equipped office onboard the vessel houses four workstations featuring all the communication, navigation and scientific equipment.
Engine and propulsion details
Bhagwan Dryden features a unique diesel-electric hybrid power and propulsion system, comprising of two 950kW Cummins QSK38-M engines, two 40kW QSK19-DM engines and two batteries.
The propulsion system includes two Schottel STP 550 twin propeller azimuth thrusters at stern and two TM300RT bow thrusters. A Cummins QSB7-DM emergency generator of 122kW is also fitted onboard.
Two 48VDC battery systems, connected to the main DC bus system generate 65kW/h of power, allowing the vessel to operate on battery power for 20 minutes at 4kt speed. The propulsion system ensures the vessel to sail at a top speed of 13.5kt.