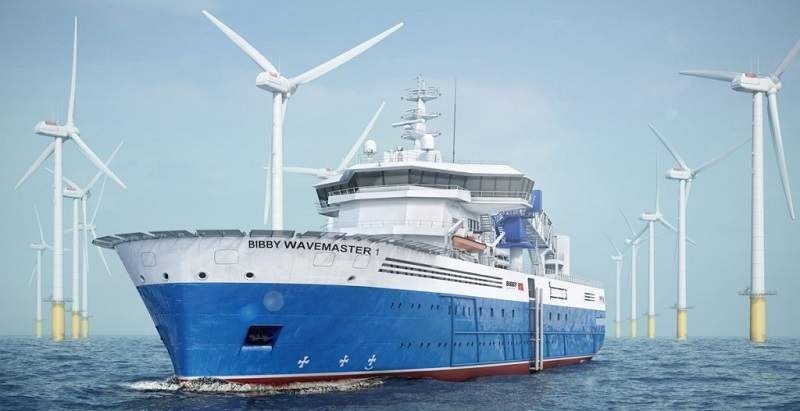 Bibby Wave Master 1 is a walk-to-work service operation vessel built by Damen. Image courtesy of Damen Shipyards Group.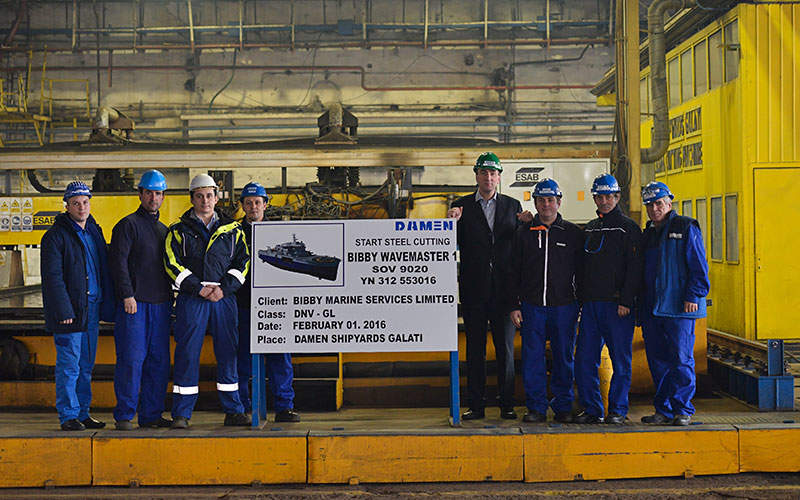 The steel-cutting ceremony of Bibby WaveMaster 1 took place in February 2016. Image courtesy of Damen Shipyards Group.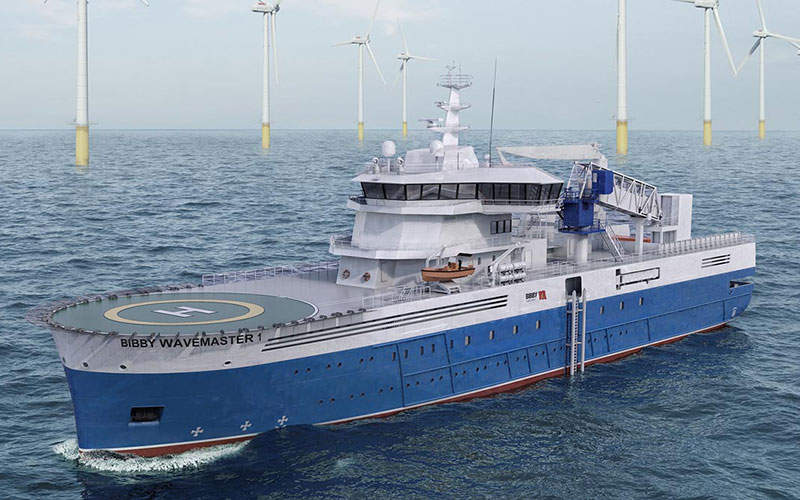 Damen Shipyards and Bibby Marine Services signed the shipbuilding contract for Bibby WaveMaster 1 in January 2016. Image courtesy of Bibby Marine Services.
Bibby WaveMaster 1 is the first walk-to-work service operations vessel (SOV) built by Damen Shipyards Group. The custom-designed vessel was delivered to UK-based Bibby Marine Services in August 2017.
The contract to build the SOV was awarded to Damen in January 2016 and the vessel construction began with the steel-cutting ceremony in February 2016. The vessel was launched in March 2017 and its official naming ceremony was held in September 2017.
The vessel was initially chartered for three months by James Fisher Marine Services for the Galloper offshore wind farm, developed by innogy off the Suffolk Coast in the Thames Estuary, UK, until March 2018.
Total E&P Nederland signed the contract with the vessel's owner and operator Bibby Marine Services in July 2017 to charter the vessel from April to October 2018, with an extension option for up to three years. It is used for providing access to gas platforms in the southern North Sea.
Bibby WaveMaster 1 design
The mono-hull vessel is based on Damen's ASV 9020 design. It is designed to operate with maximum efficiency while providing a high level of comfort for the crew.
Bibby WaveMaster 1 features a long hull form to enable bow thruster integration. The V-shaped bow section reduces slamming and improves the offshore operation of the bow thrusters. The V-shaped frames in the aft of the vessel and a concentration of volume in the centre of the hull result in a slender aft, designed for comfortable stern to wave operations.
The vessel has an overall length of 90m, moulded beam of 20m, moulded depth of 8m and summer draught of 6.3m. The deadweight of the vessel is 2,400t.
Navigation and communication systems
Bibby WaveMaster 1 is equipped with X-band and S-band navigation radars, an electronic chart display and information system (ECDIS), an area A3 global maritime distress and safety system (GMDSS), and a DP-2 dynamic positioning system with radar scan, laser and differential global position reference systems (DGPS) to accurately keep the ship on course.
Deck equipment and systems on Bibby WaveMaster 1
The service operations vessel offers a deck area of 470m², which can handle a deck load of 600t with vertical centre of gravity (VCG) 1m above the deck.
An electric-hydraulically operated anchor mooring winch is fitted on the deck, with a rope drum and two warping heads, two electrically operated capstans with a hold force of 5t each, and a knuckle boom deck crane with a safe working load (SWL) of 5t. The crane uses active heave compensation (AHC) system.
The ship features a helicopter landing spot at forward bow section. The helicopter deck supports the operations of a single helicopter with a take-off weight of up to 12t. The Tuco Marine Pro zero 11m wind farm service boat is an optional daughter craft vessel.
Propulsion system
The diesel-electric propulsion integrates two main 690V diesel engines and two 2,150kW electric motors driving two azimuth thrusters with fixed pitch propellers, and one 860kW retractable and two 860kW fixed bow thrusters.
"The vessel was deployed at the Galloper offshore wind project in the North Sea."
The vessel sails at a normal speed of 13k and an economical speed of 12k at 4.80m draught. It is capable of remaining at sea for a period of 30 days.
Auxiliary equipment includes four 6,434ekW main generator sets and a 238ekW emergency generator. The configuration of the diesel-electric propulsion with azimuth stern drives and a systematic wind profile improves the fuel efficiency and reduce emissions.
Accommodation onboard the SOV
BibbyWaveMaster 1 accommodates 15 crew members and 45 special personnel. The cabins are furnished with internet, telephone and satellite television. It features offices, a conference room, recreation day rooms, a reception room, a hospital, a drying room and a changing room.
The accommodation areas are located amidships to minimise the vertical acceleration by approximately 15%.